Overview
Background: GramCity is a photo editing app that helps people make awesome photos before uploading and sharing them to Instagram or other social networks. In order to move beyond the current capability, GramCity wants to explore how they can help people find the most photo-worthy places (AKA "photo-ops") while traveling in any city.
Tool Used: Figma, Miro, Adobe Illustrator, Photoshop
Role: UX Researcher, Product Designer, Interaction Designer, Information Architect, and Strategist.
The Problem
GramCity wants to help people find the best locations to take instagrammable photos as well as build an active online community for people to share their unique experiences and discoveries. They've brought me here to run a design sprint and quickly develop a solution.
My Solution
My solution is to design an app feature that can help people locate a photo-op at any time and anywhere as well as share their favorite locations with the GramCity community. As your location scout, GramCity will lead you to find the exact places and locations so you can focus your time creating insta-worthy moments.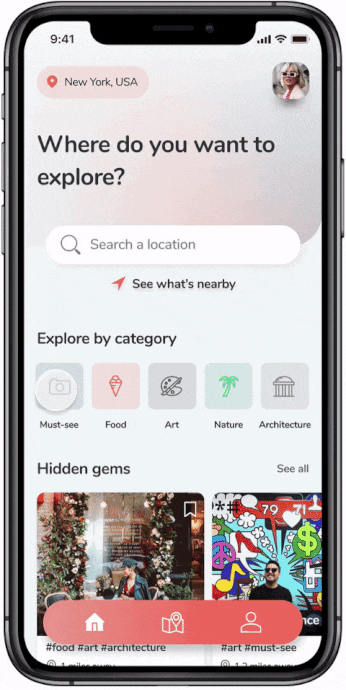 Explore Photo-ops by Category
Explore nearby photo locations by categories or through personalized recommendations from community insiders to find the coolest and most secret photo locations

Filter or sort by specific criteria for a fast, relevant, reliable search experience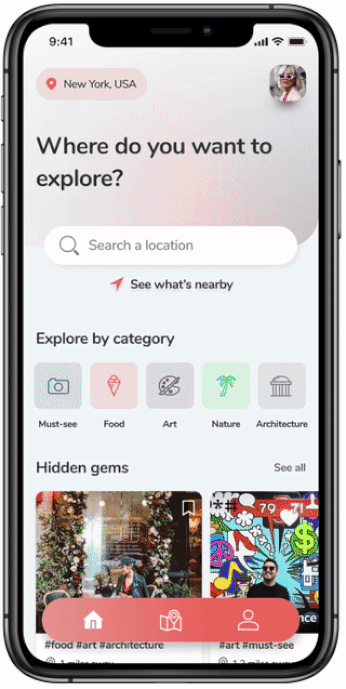 See Photo-ops Nearby
No uncertainties, get exact coordinate to where the photo was taken and preview the distance on a map

Horizontal filter bars and coordinating map markers allow users to easily see what they've selected and filter the selections.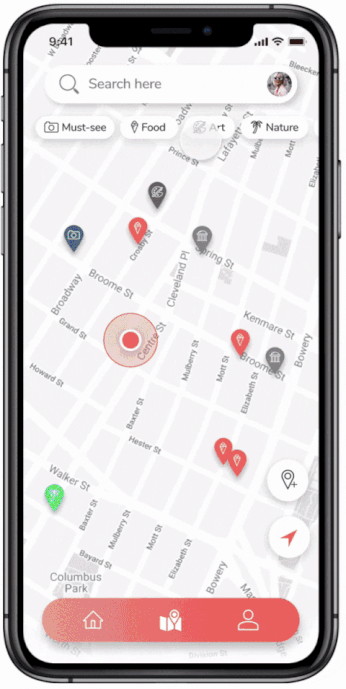 Bookmark and Navigate
Unique capability of saving photo-ops and adding to a trip, save all your bookmarks in one place, and adventure with ease

Get inspired by creative photos taken at every location by the GramCity community

Receive all instructions needed for when to go and how to get there
The Process Breakdown
I adopted the Google Ventures Design Sprint to create an MVP and test the feature before it launches. I did this through a 5-day solo design sprint which allows me to come up with a possible solution quickly.
Here is my process breakdown: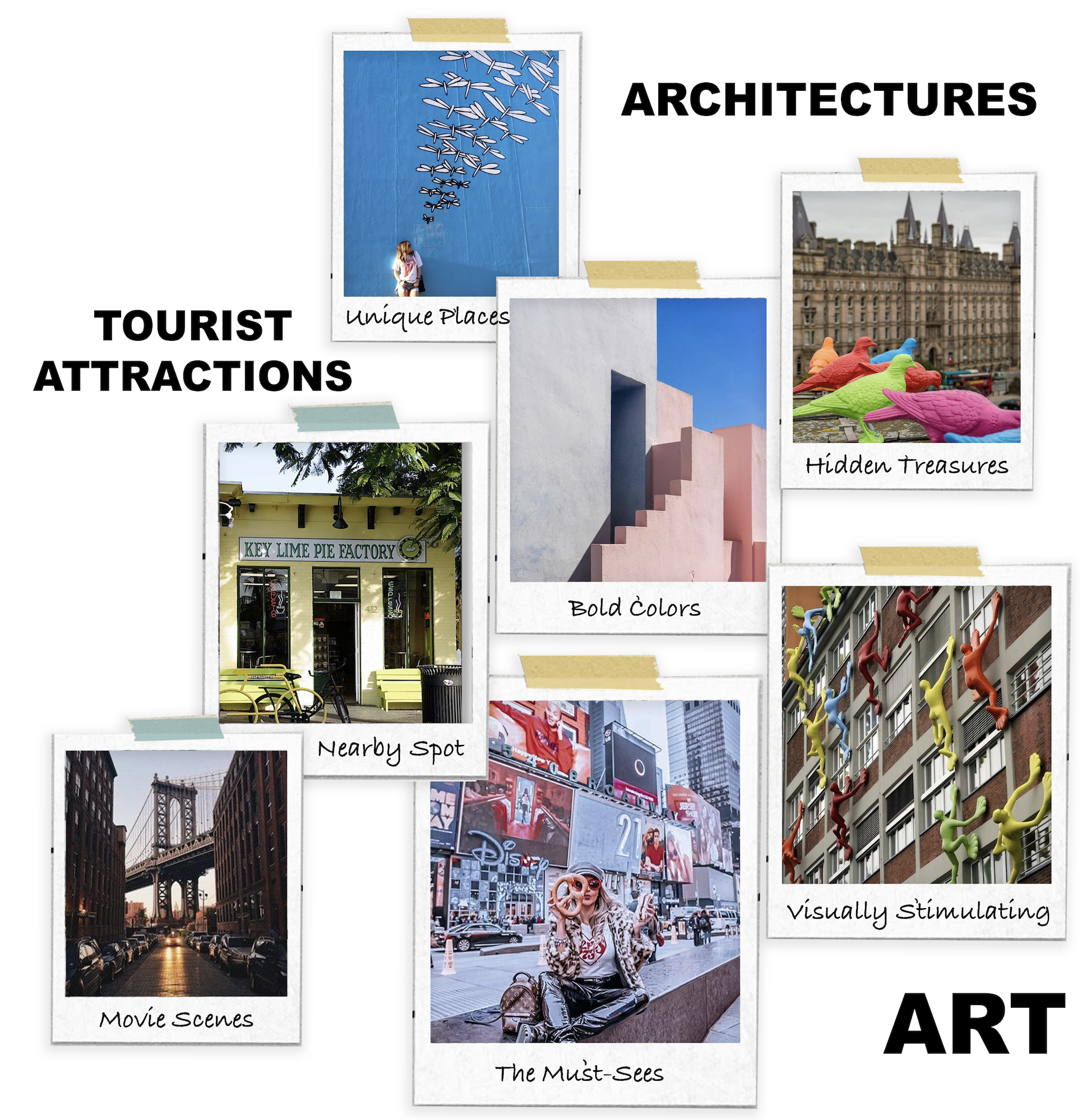 User Research Findings
Photo-ops that GramCity users are looking for
Visually stimulating, bold colors

Hidden gems, unique places

Touristy spots, the must-sees

Good places nearby

Movie scenes with historical values
"Sometimes we spend too much time looking for the perfect photo spots and end up not having enough time to enjoy the moment."
The Problem Space
Taking photos is a great way to "capture" a memory, but you might leave a destination feeling a bit unsatisfied if you spend the majority of your time searching for the perfect instagrammable spots, and sometimes, they are not as good as you have imagined.
So...
How Might We help users to find the best photo opportunities intuitively when traveling?

How Might We help users to find photo inspirations from other users who have stopped by?

How Might We engage users in sharing their favorite photo locations with the community?

How Might We help users to find the balance between taking photos and enjoying and living the moment?
Nick
The Impromptu
"I don't have a strict plan or itinerary when comes to travel."
Frustrations:
Miss out on the travel experience when he is constantly on his phone taking photos

Not knowing some good photo-ops nearby
Goals:
Find great photo locations without spending too much time researching or traveling
Sarah
The Planner
"I don't mind searching for locations and photo inspirations before traveling."
Frustrations:
It can be a waste of time if the places didn't meet the expectations

A time-consuming process to scroll through other users' photos and find detailed information on the location
Goals:
Find locations and examples of the best photo-ops in a city before planning out her trip
User Map
I have mapped out the possible end-to-end user experience for the new feature using two personas, Nick and Sarah. These journeys represent the heart of GramCity - Discovery, and Sharing.

Lightning Demo
I started my 2nd day by conducting a lightning Demo, which is an exercise the team gathers ideas and inspiration from other companies and industries that are solving.
I was looking for products with an intuitive map function and social component where users can share their photos. In the end, I narrowed it down to 3 competitors that solve similar problems as GramCity:
Explorest, Depalo, and Yelp.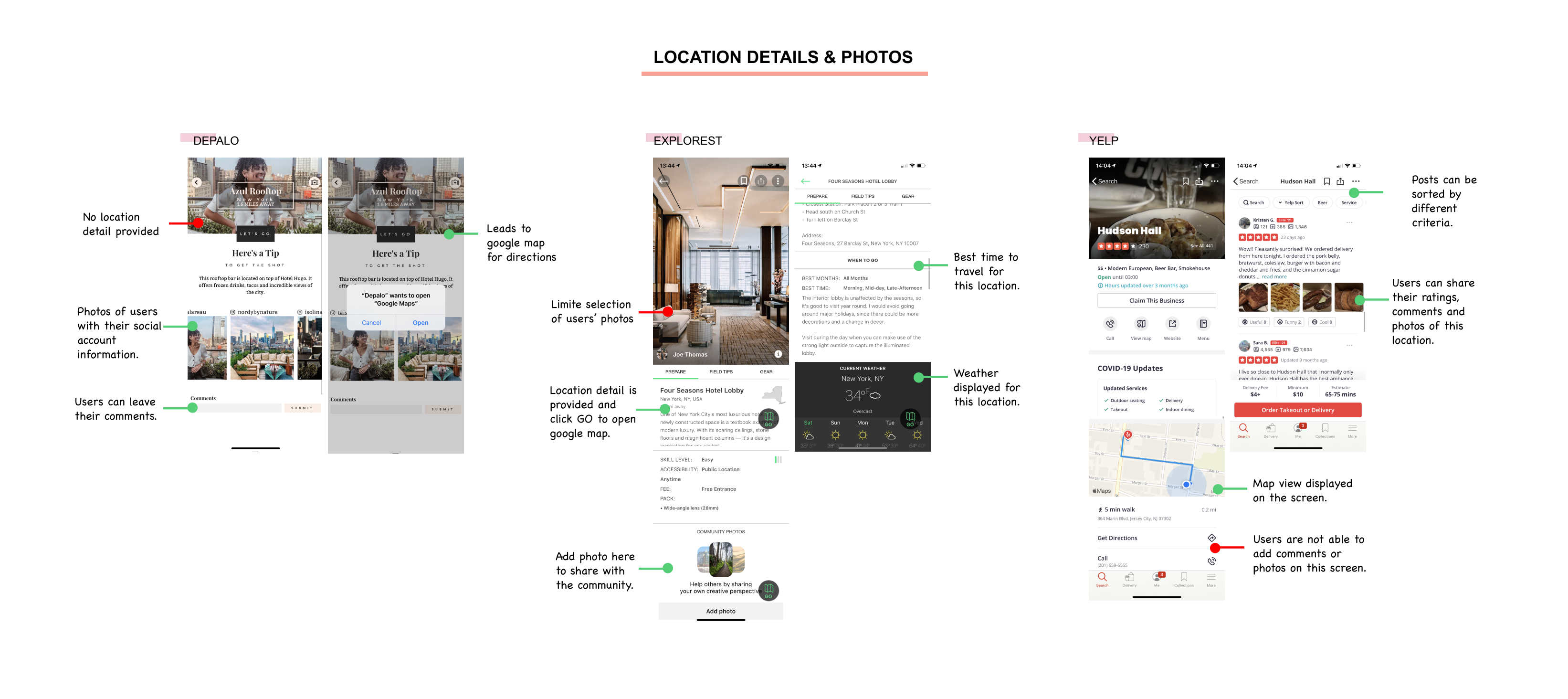 Since GramCity roots in discovery and sharing, I looked into these two major functions of the competitors' products. The critical patterns I've uncovered are:
Search and Discovery Functions
Enable search for any desired city or use current location

Combine map view and list view intuitively

Able to filter or search by categories in a city

Recommendations help users make quick decisions
Location Details and Photos
Address information, transportation, best travel time can be provided

Easy access to other users' photos and add your own photos of this location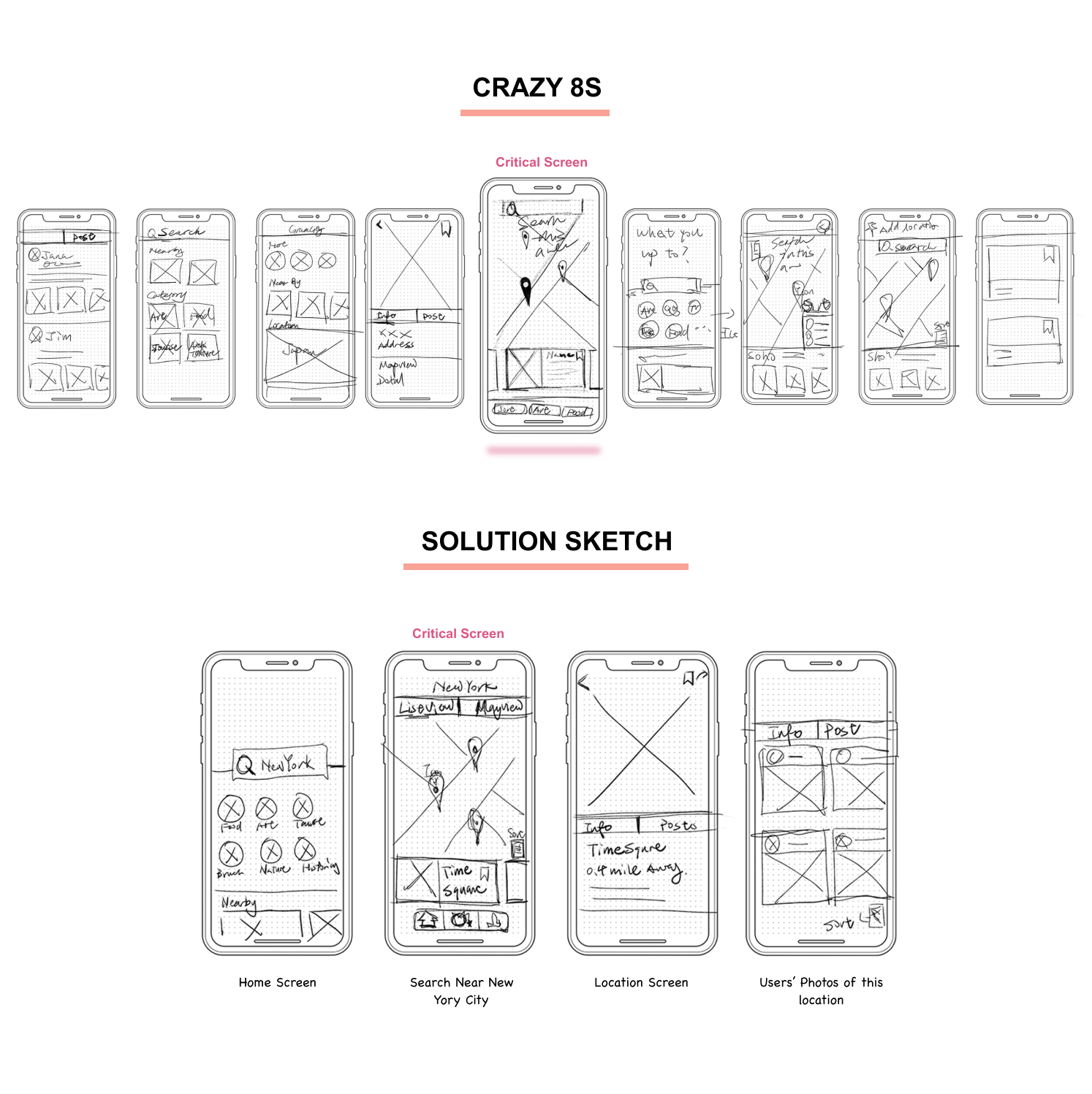 Crazy 8s
After analyzing the key functions that can make a difference, I moved onto Crazy 8s, which is a fast exercise that challenges me to sketch 8 ideas in 8 minutes.
The most critical screen from this round of sketching is to provide a map view of attractions using the user's current location, which caters to both Nick and Sarah's major goal: find the best photo-ops in a city.
Later on, I expanded this screen into a thoughtful 4-panel story sequence.
Search a City / Use Current Location -> View Nearby Photo-ops -> Select a Photo-op -> Browse Photo Gallery
Day 3 - Create a Storyboard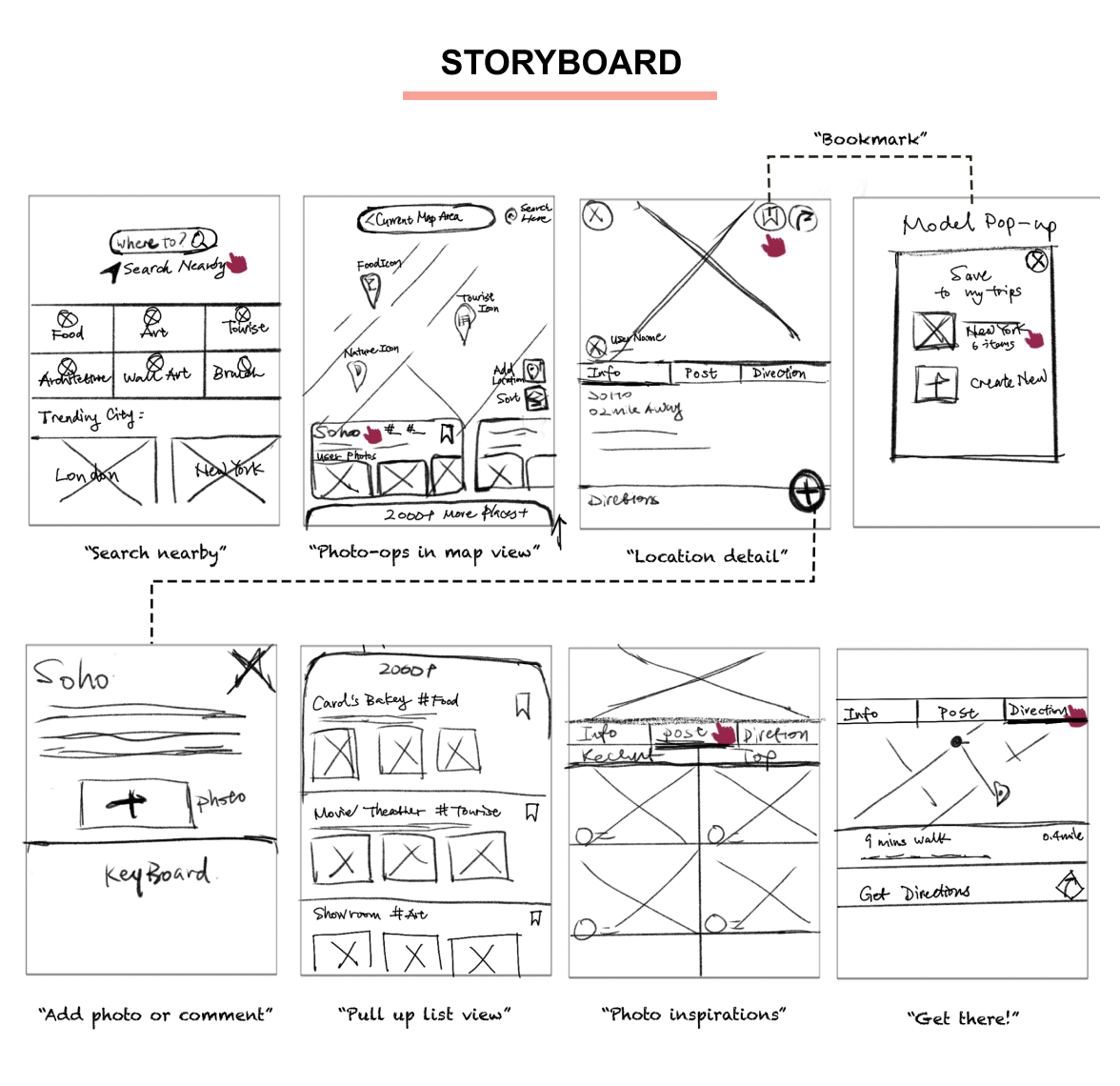 Storyboard
As the solo designer on the project, instead of discussing the design concepts with my teammates, I evaluated my sketches from yesterday and fleshed out a storyboard for the final solution. The story starts from launching the app, searching nearby photo locations to bookmarking the desired photo-op in a form of a lightweight wireframe.
In order to align with the product goals and answer the problem statements, here are some features I've taken into consideration:
Bookmark photo-ops to a trip: users can collect photo-ops in a systematic way and view them later once they arrive in the city

Maps preview: a 3D map imagery help users gain a better idea of the distance

Upload photo to the community: help others by sharing your own creative perspective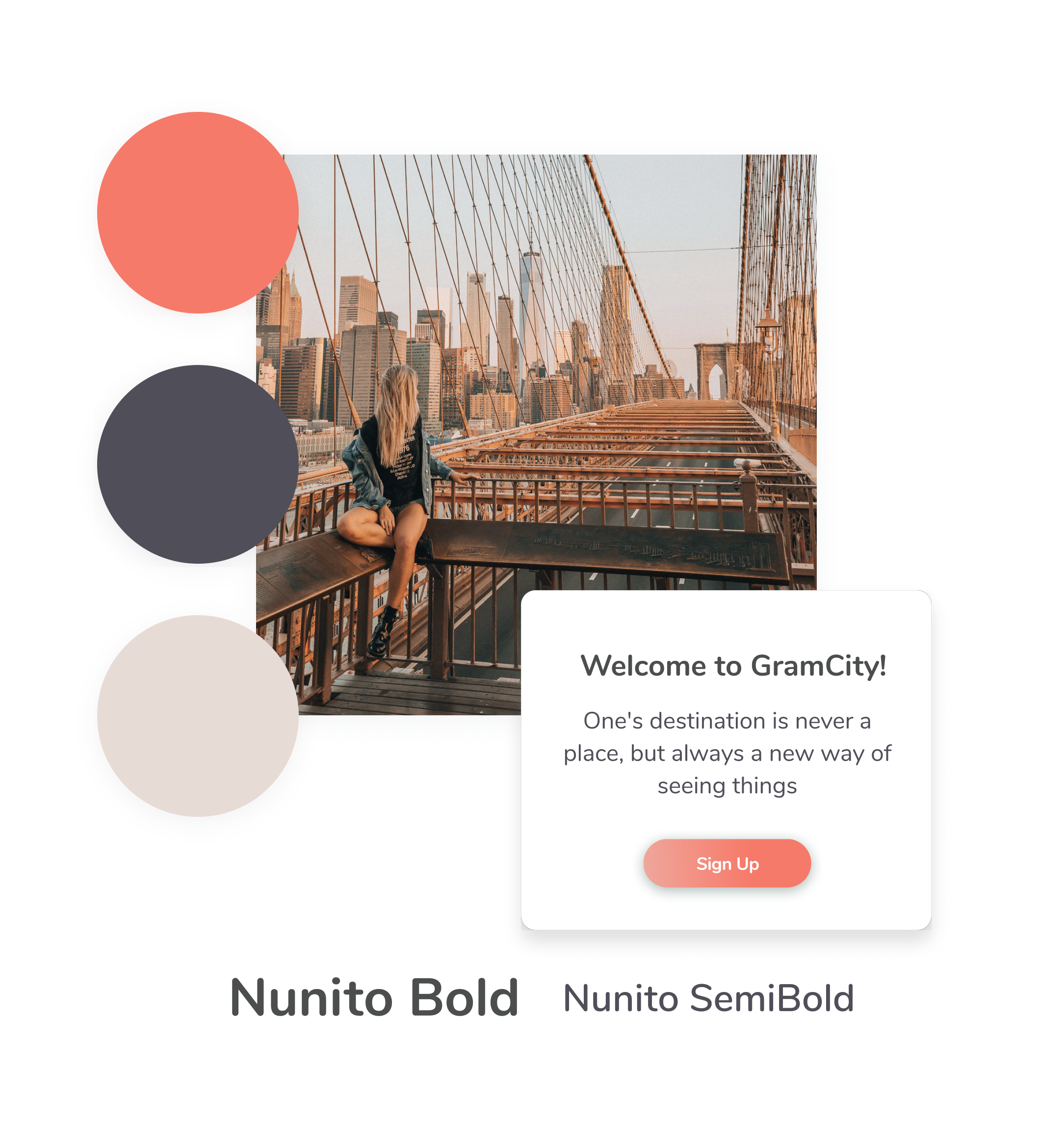 By applying a human-centered design approach, I aimed to create a realistic facade that I can put in front of the users and gauge their reactions.
Below are some main features I want to incorporate in the prototype:
Use visual language to attract user's attention but not in an overwhelming way

Strategically present nearby top-rated recommendations to save user's time from researching and traveling far

Easily sort the map pins for travel planning

An intuitive map view for users to explore nearby photo locations like a local expert

Easy access to photo gallery of popular photo-ops and bookmark for future visits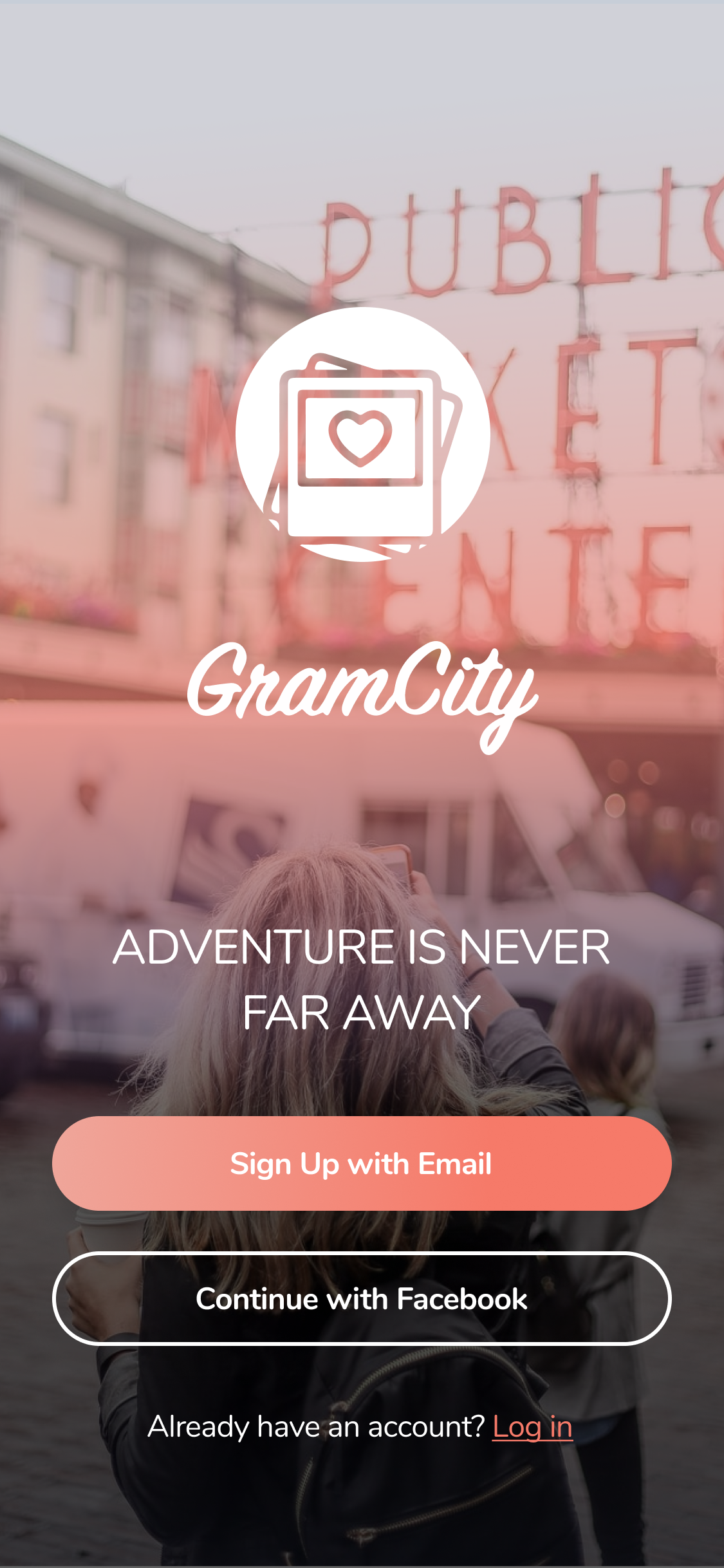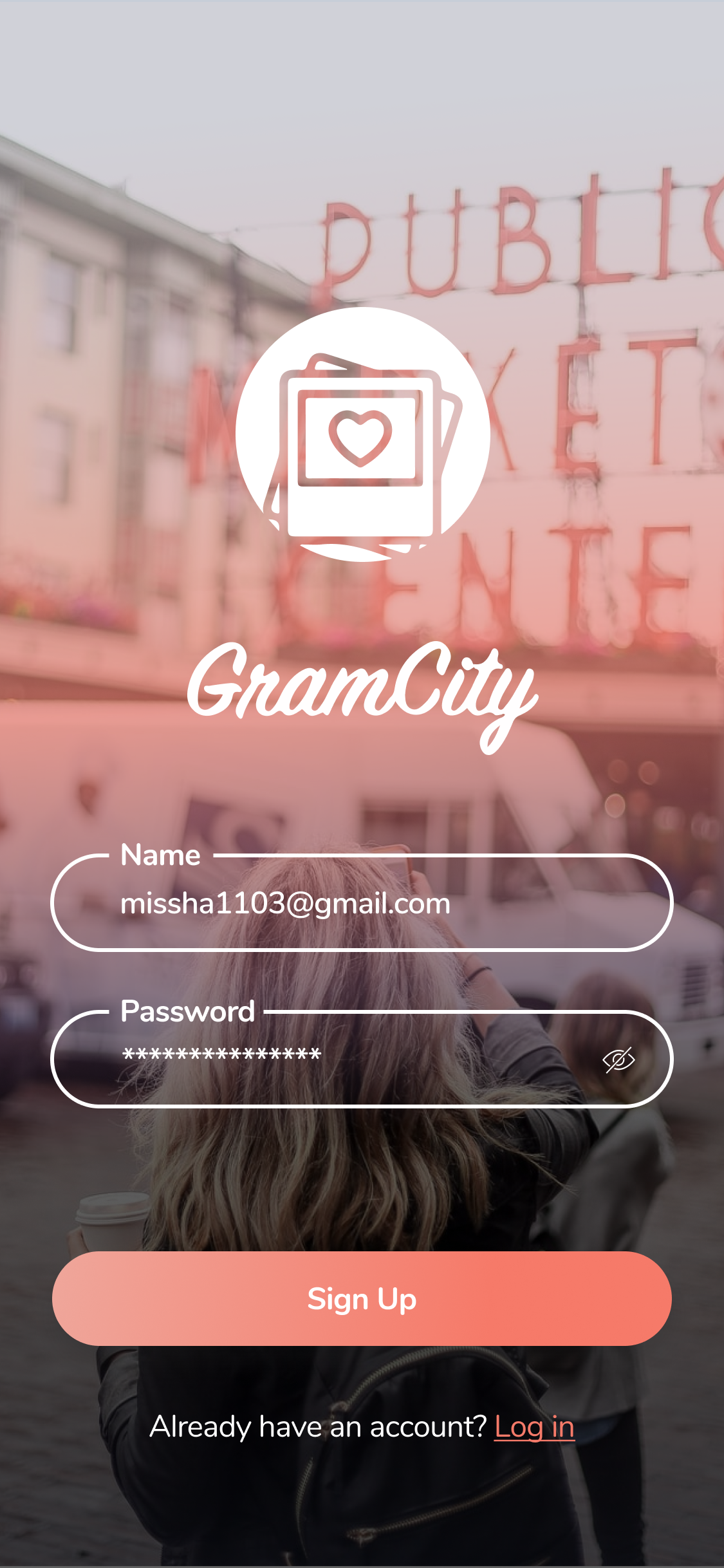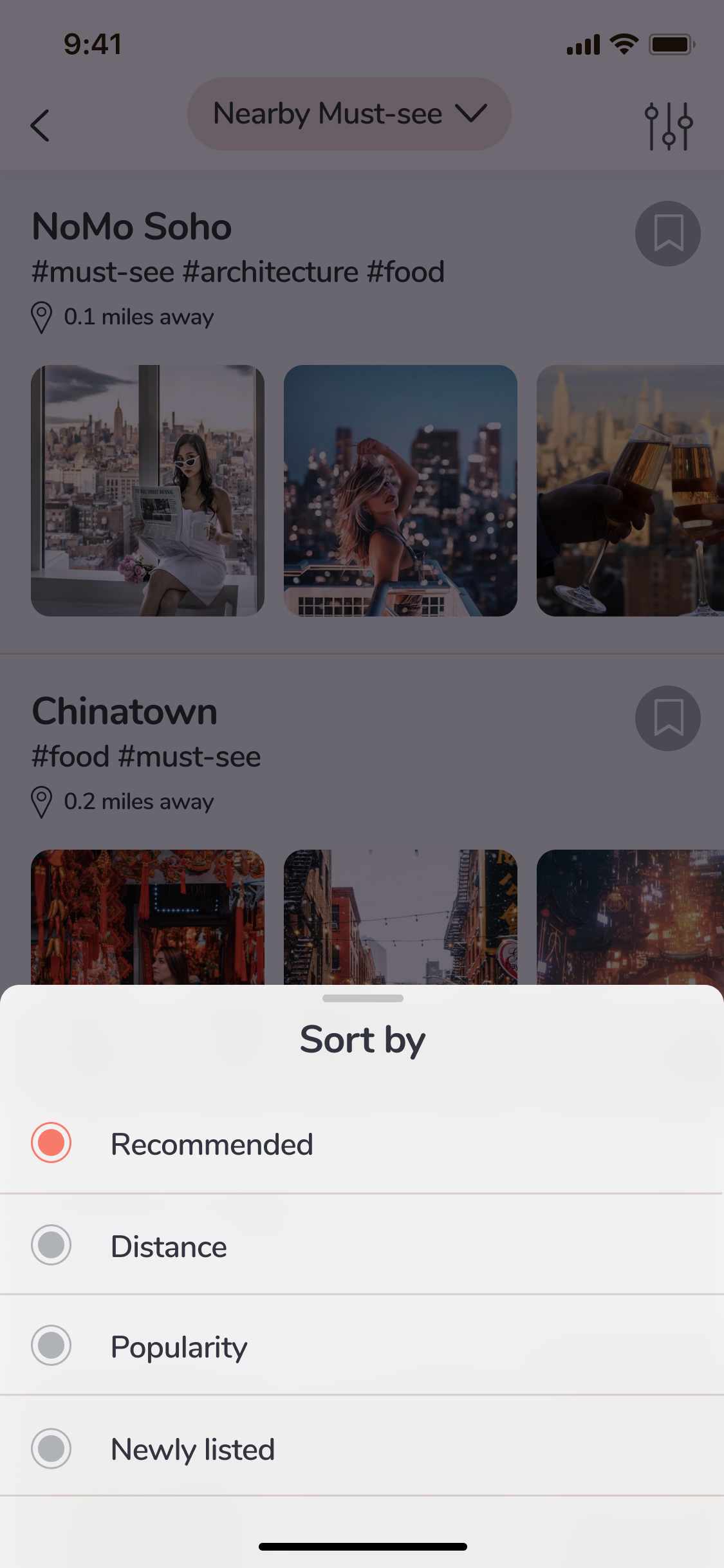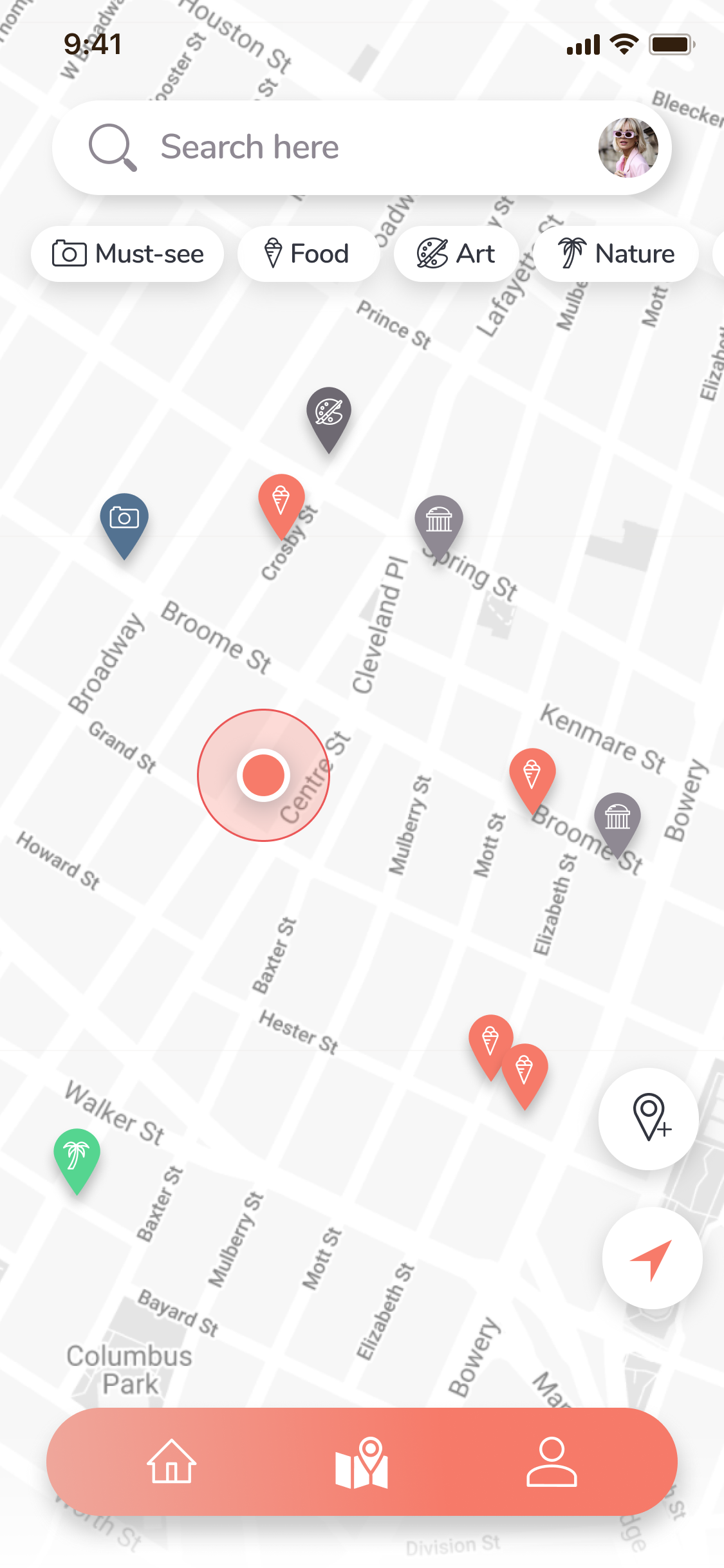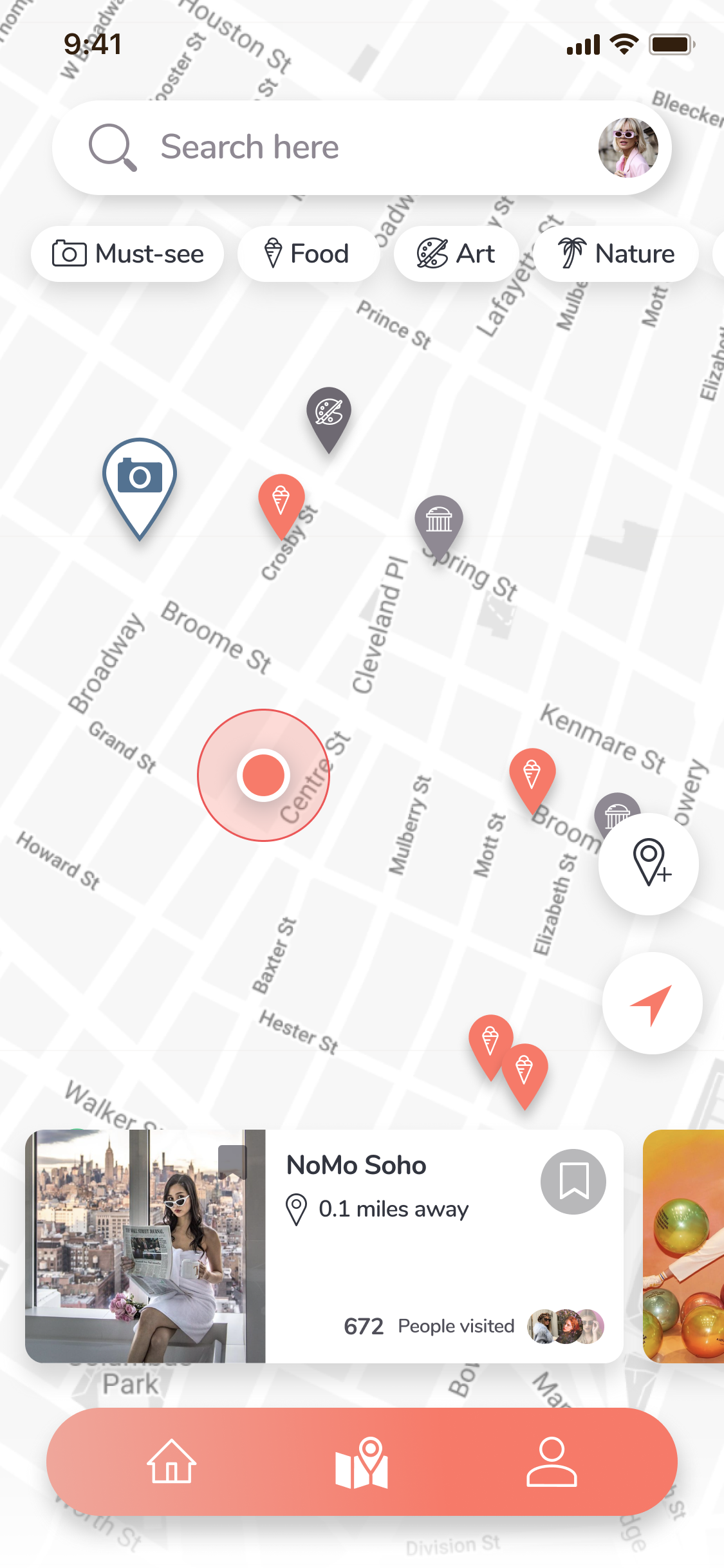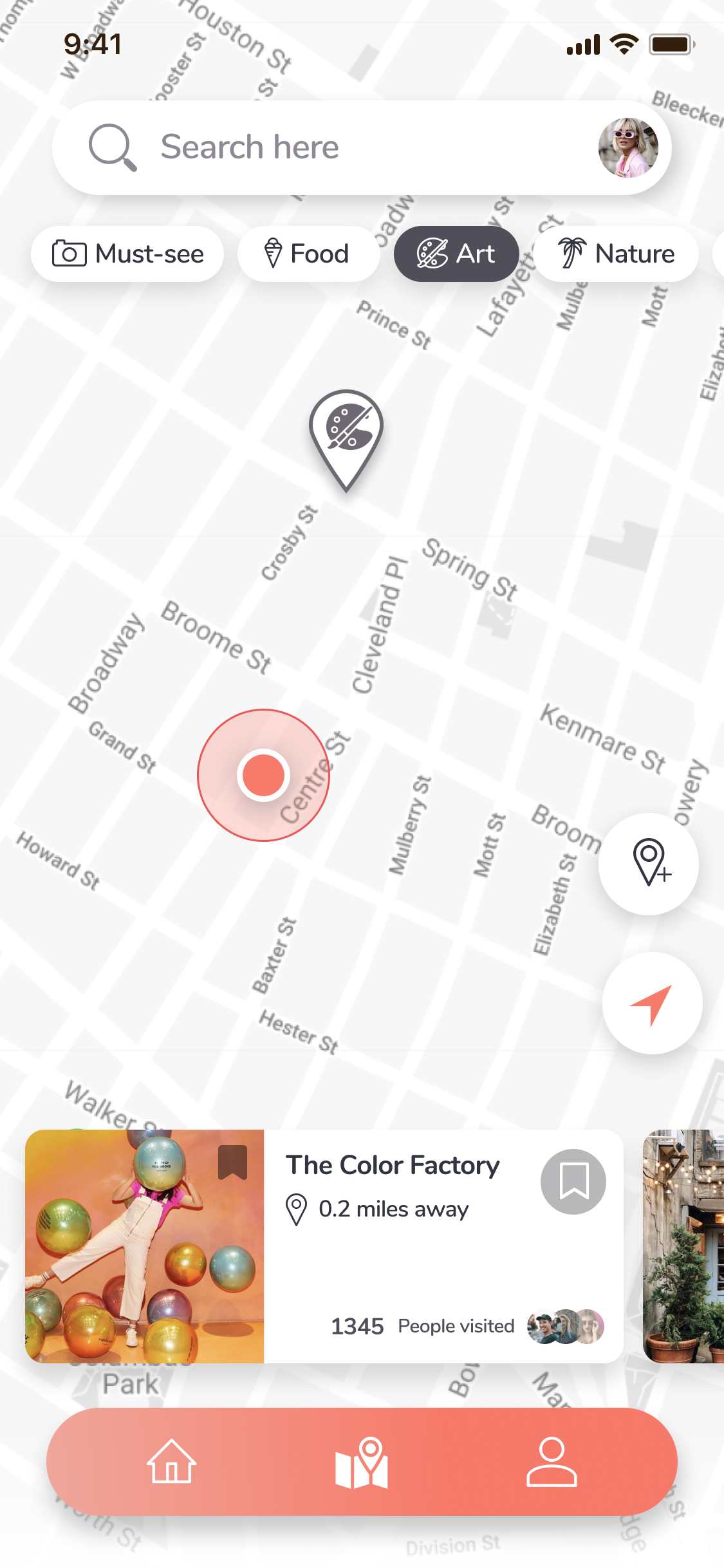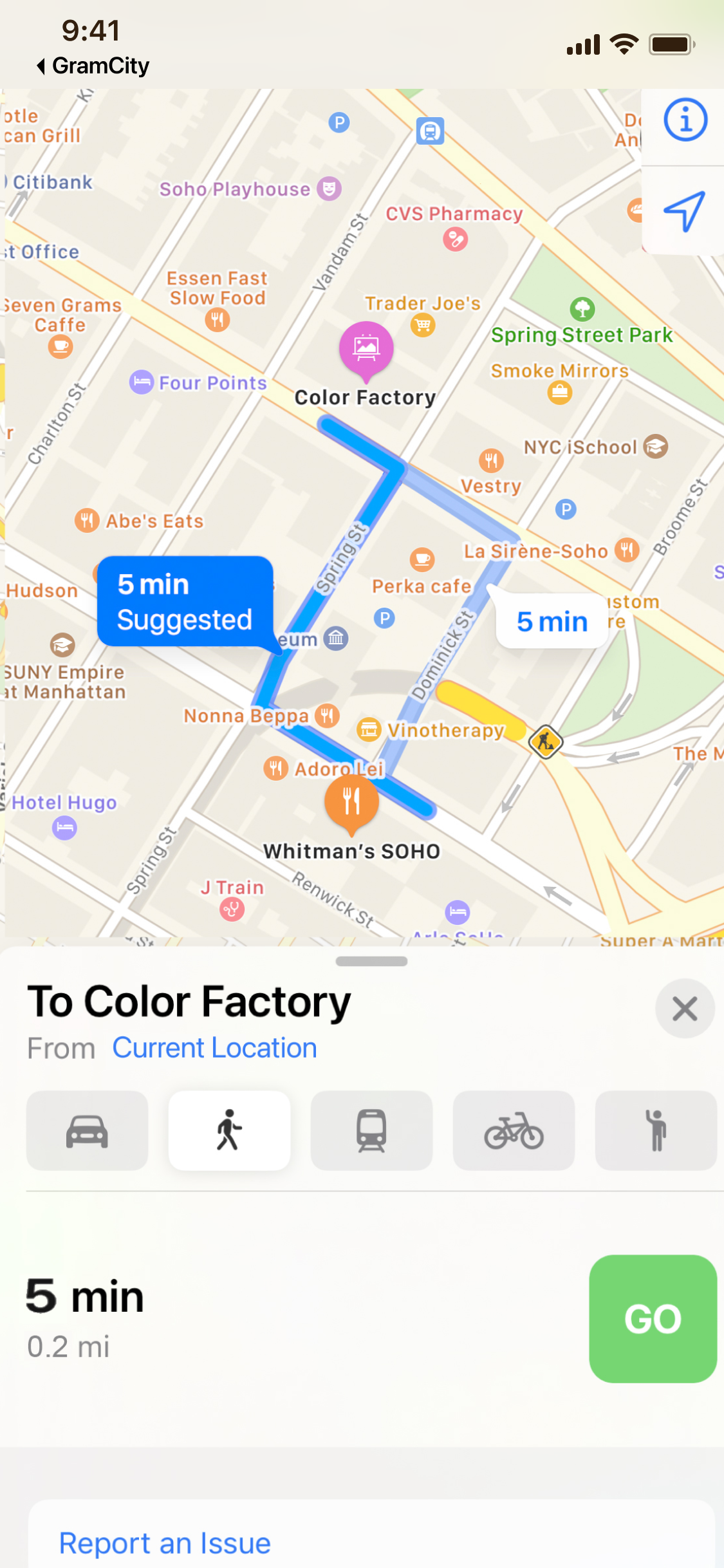 Usability Testing Insights
Testing Duration: 20~30 minutes Number of Participants: 5
After prototyping, now it is time to put the design solution to the test. I've recruited 5 active Instagram users to complete a series of tasks below:
Explore "must-see" photo locations in new york city

Find the nearest artistic photo-op on the map view

Bookmark this photo-op to an existing trip

Get direction to this location
Usability Testing Findings
100% were able to successfully navigate and complete the tasks given

100% mentioned they loved the simplicity, aesthetic, and overall design of the app

80% would love to explore the "hidden gems" first from the discover home screen since these places are usually harder to find and less crowded

60% expressed their needs for written comments and reviews of the photo-ops besides the photo gallery so that they can know more about the locations

40% didn't know what the "add new location on map" icon means. This button allows users to discover a new location on the map view and create a new photo-op entry. However, lacking tool tip instruction, participants are not sure how to interact with it

40% appreciated the "# of people visited" information on each location card which encouraged them to find trending places

Lesson Learned
Best work might happen in a short burst!
This design sprint project taught me how to answer problems of practicing UX in an agile environment where I have to take all of the existing research, unpack its essence to a diverse group, and then ideate in a rapid manner. The strict time frame challenges me to focus on solving the essential problems (MVP) quickly and leave pixel perfection behind.
More importantly, I've learned to have fun, stop chasing perfection, and enjoy the journey. Just like the spirit I want to convey through GramCity, there is indeed great joy to be found in the process of discovery — not just in the outcome.
In the end, I was surprised at how much I am able to pull off within such a short amount of time. And seeing the world through new eyes, and observing "the way people do things" from arriving in a city to finding the ultimate photo spot was truly memorable.
Overall, it was an exciting and rewarding experience where I am able to answer critical business questions through design, prototyping, and testing ideas with target customers. I'm looking forward to the next design sprint project!
Next Steps
If I had more time, I would like to expand on these features below:
Comments and Reviews: I thought about adding comments and reviews to each photo from the gallery. Since this has been brought up by few participants, I would like to combine the photos and comments intuitively
Itinerary Planning: allow users to view bookmarks on the map view and plan an upcoming itinerary with optimized travel route.
Social Impact: embed Instagram accounts within the app to boost your presence on all social media platforms and grow your Instagram following
Clickable Prototype
Enjoy the prototype and visit New York City, we have the coolest photo-worthy locations!
Let me know what are your favorite photo-ops :)
"I would definitely use this app if I'm traveling to a new city and up my Instagram game! "