FitBuddy
The ultimate fitness app that finds you the next workout buddy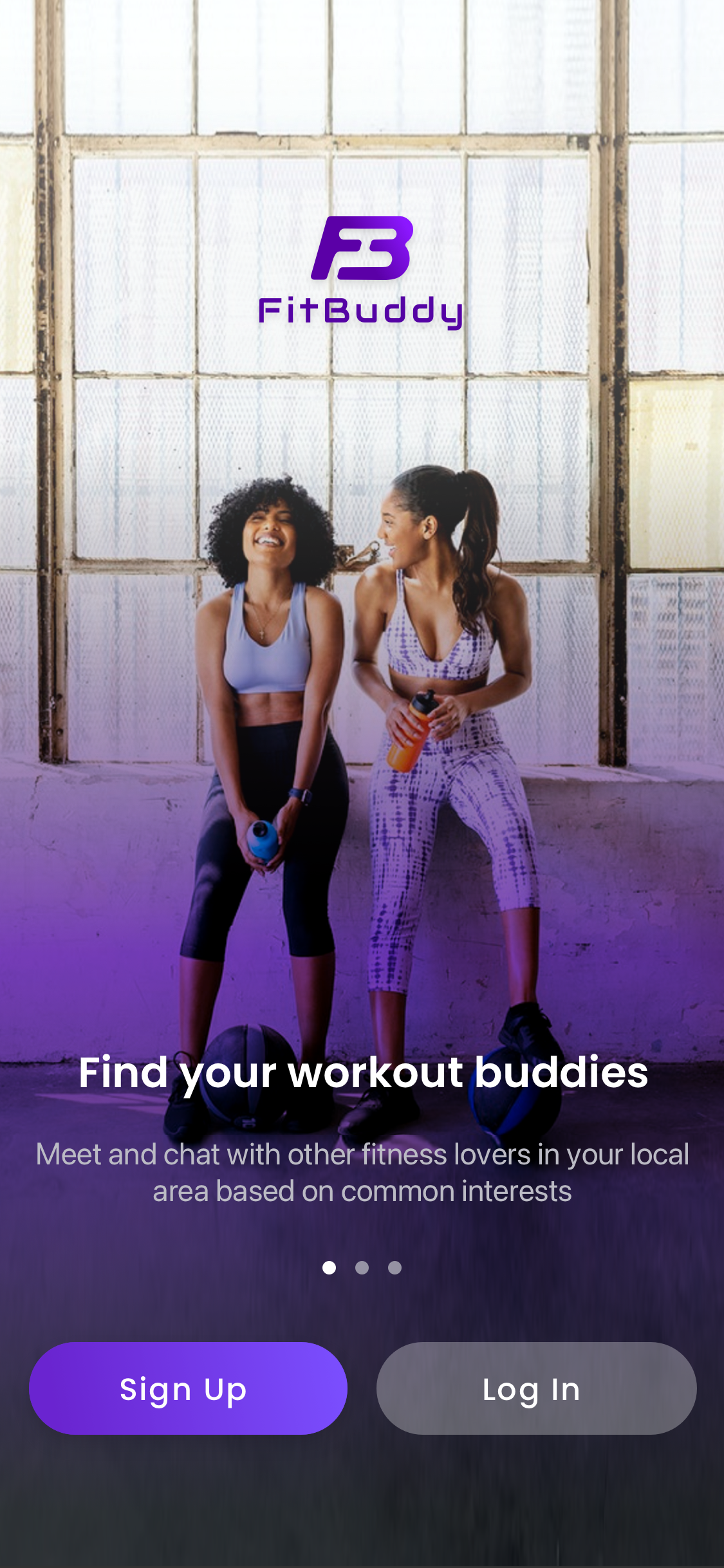 Overview
Project Brief
Keeping up with fitness goals and exercising alone can be difficult. When life keeps you busy, it can be challenging to find someone that keeps you motivated and accountable. FitBuddy allows you to find workout buddies that share common interests and reach goals together.
Timeline
Nov 2020 - Feb 2021
My Role
UI UX Design, UX Research, Design Strategy, Prototyping, and Usability Testing
Tools Used
Sketch, InVision Studio, Miro, Marvel, Optimal Workshop, Photoshop, Adobe Illustrator
The Solution
FitBuddy is a mobile application that helps people find workout buddies online and transforms fitness into a social experience with the ability to create and join activities with others.
People lack motivation when working out alone
" Köhler effect" is a phenomenon that people get complacent and lose interest quickly due to the lack of company when performing fitness activities.
It is challenging for people to find workout buddies who share common routines and fitness goals
With the fast-paced lifestyles, it can initially be difficult finding the right person to work out with.
Align with a community of like-minded people can take your workouts up a notch
People seek company and positive reinforcement from others. Research shows 80% of people believe they're more likely to stick to their workout routines if they partner up.
The Challenge
Understanding people's motivations and difficulties when exercising and identifying how social connections can impact their fitness behaviors.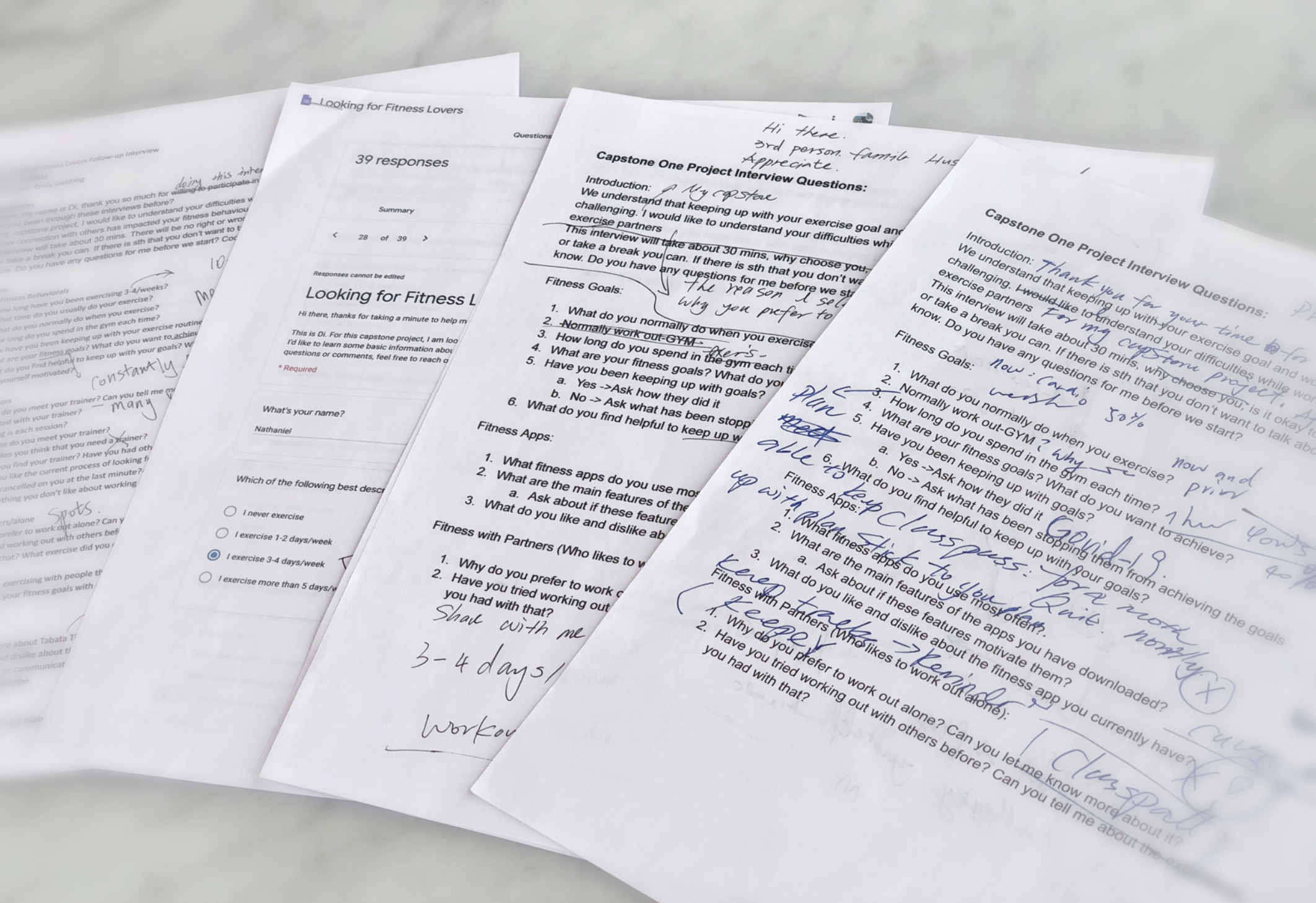 Highlights
Through secondary research and user interviews, I gained an initial understanding of users' fitness motivations, goals, and difficulties.
I have sent out 40 screener surveys and 6 fitness enthusiasts participated in the interview. Let's hear what the users say about their experiences of exercising with buddies.
10+
Academic reports and articles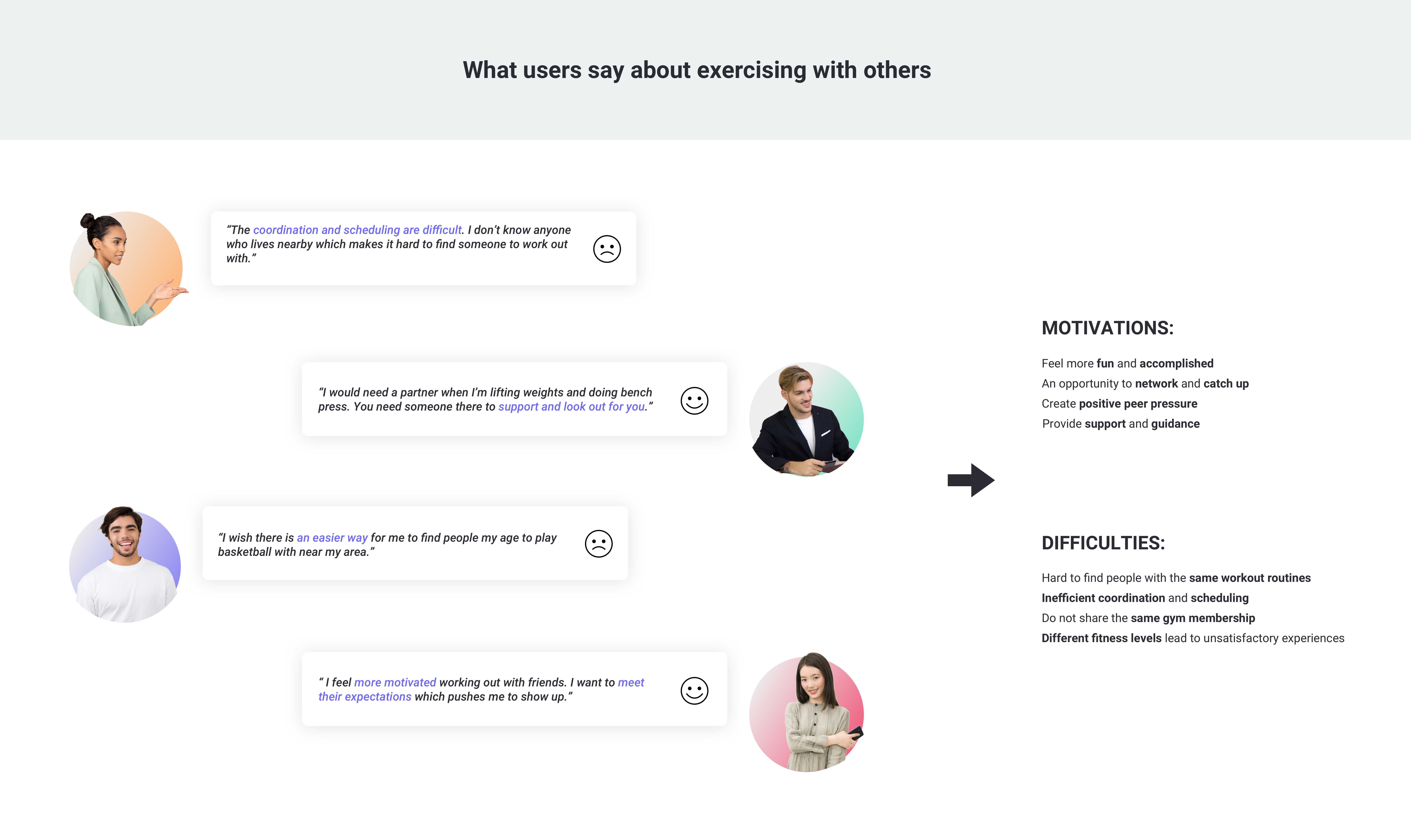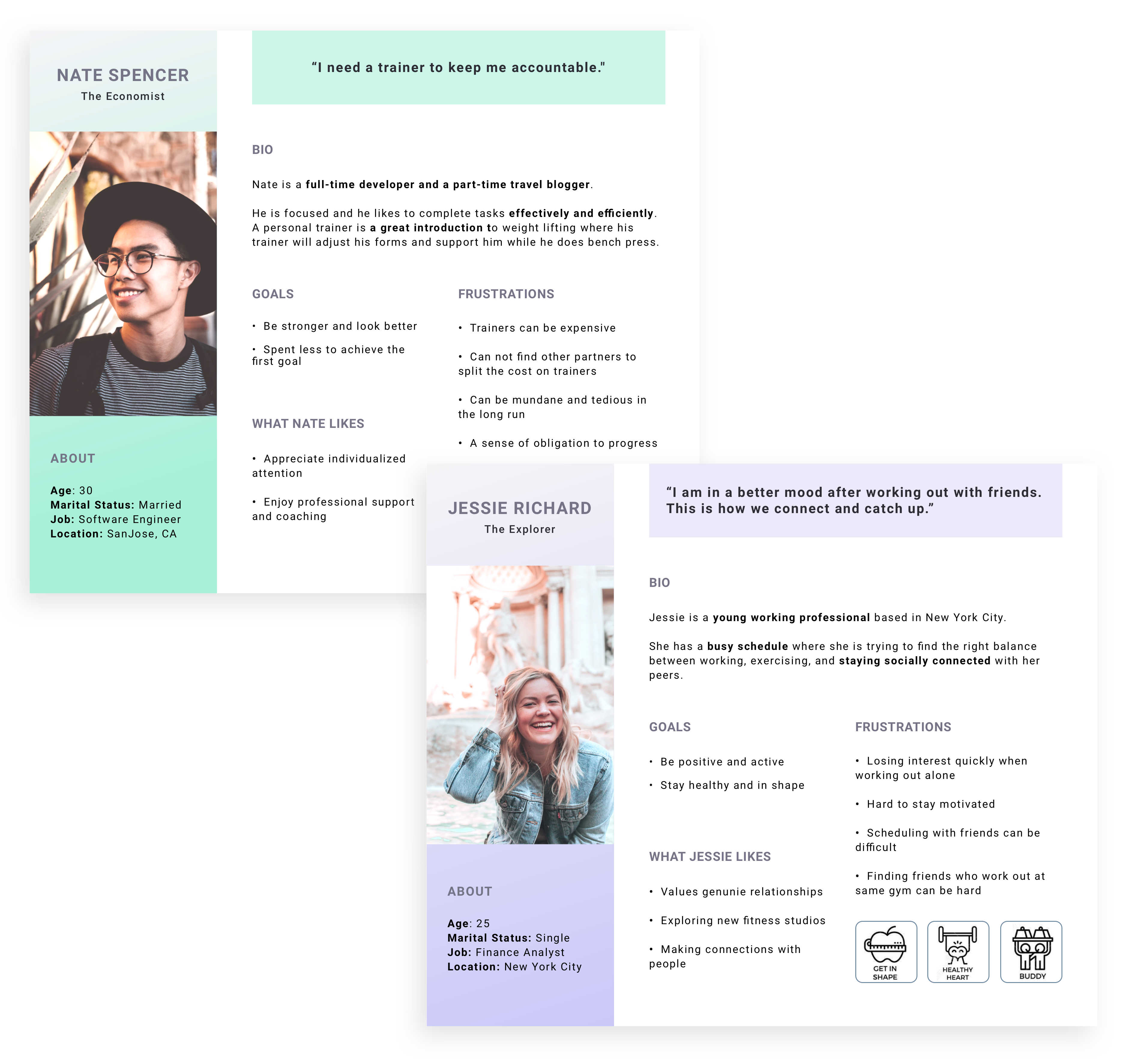 Persona
I started with 2 personas to illustrate the key audiences of my product and to help potential stakeholders gain more empathy for the target users.
Jessie enjoys working out with friends while Nate prefers working out with professional trainers.
Due to time constraints, I decided to prioritize Jessie's case first which applies to a broader group, and address Nate's need as a feature for future iteration.
To better understand Jessie's goals and concerns, I have summarized a list of pain points where I want to solve in the design process.
User Pain Points:
Find buddies based on personal preferences

Protect personal information and privacy

Hassle-free scheduling process

Location-based features for easy access
The Opportunity
How Might We create an inspiring social community with engaging strategies that help people find mutually-interested workout buddies easier?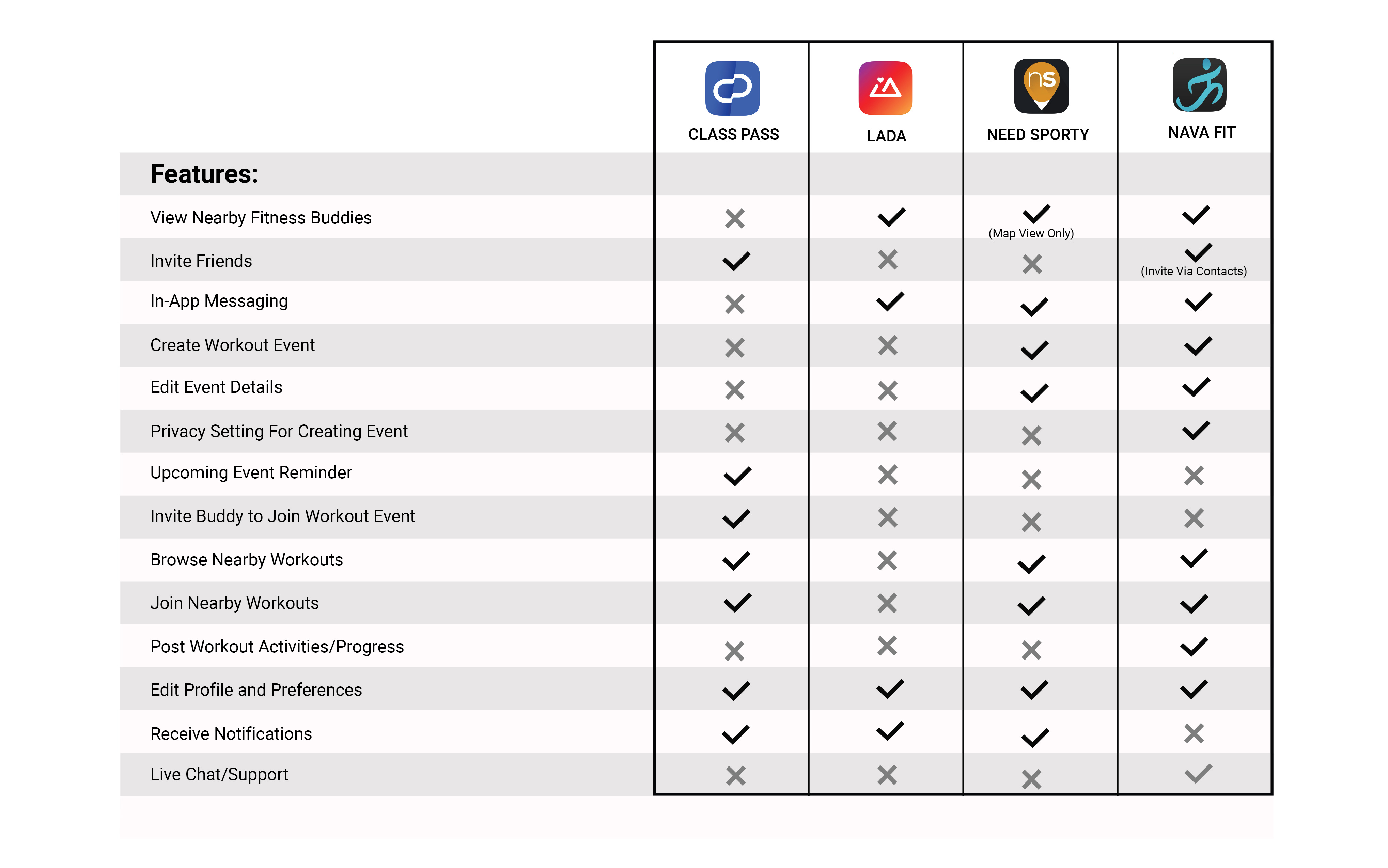 Competitive Analysis
A heuristic analysis was conducted on identified competitors including "ClassPass", "LADA", "Need Sporty", and "Nava Fit."
Criteria of comparison: after studying competing products, I categorized the design features into three categories: Consistency & Standards, User Control & Freedom, and Flexibility & Efficiency of Use.
See the full version document here: FitBuddy - Heuristic Analysis
Research uncovered some interesting functionalities that the target users want but do not exist yet.
Set privacy settings when creating a workout for more personal or exclusive events

It is important to have a community space enabled for the users. Messaging and commenting features could increase recurring usage of the app

In order to deliver a hassle-free experience when scheduling workouts, users should be able to invite buddies to join their workout events
User Stories and User Flows
User stories and user flows diagrammed a progression of features that the app needs to provide for a user to accomplish a task.
See the full version document here: FitBuddy - User Stories.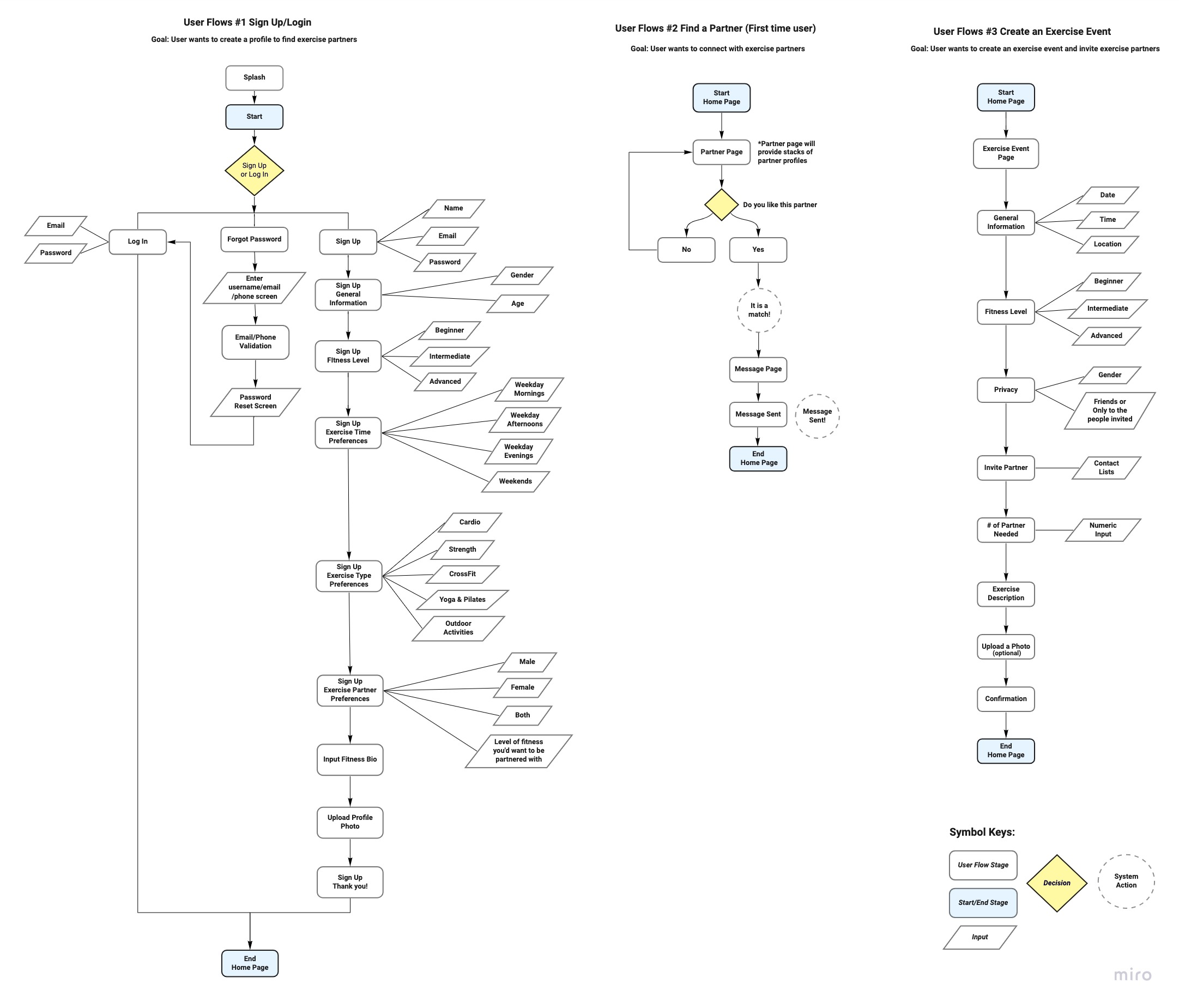 User Needs
To create my profile and log in to my account

To find workout buddies in my local area

To create a workout event
User Goals
To stay active and maintain a healthy lifestyle

To connect with like-minded people based on my preferences

To let my buddies know what I'm up to so they can join the activity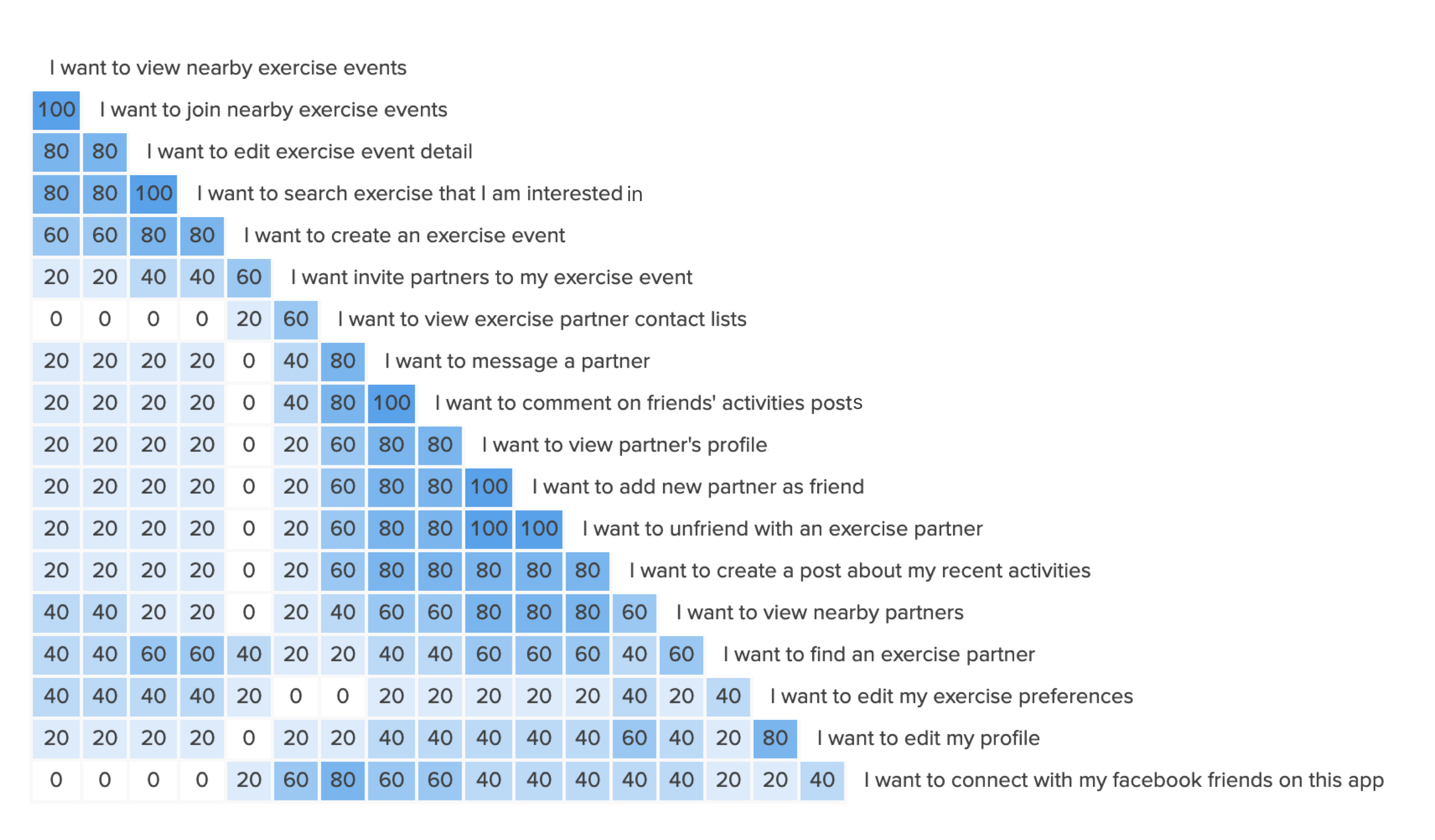 Mapping Information Architecture
Based on the MVP, I used user stories to create the cards that need to be sorted by the users, which covers the area of Find Buddies, Workout Events, Social, and Account.
Results:
Participants sorted the cards into three groups: Social, Events, and Account

Participants have merged "Find Partners" and "Post & Comment on Activities" to the Social category
Optimal sort helps me keep track of how users move throughout the app, keep users at the center of my design, and identify areas where problems may exist.
After gathering the data, I decided to divide the social components into 2 categories: maintain certain social functions under the Buddies category while comment & post about a workout event under the Workout category.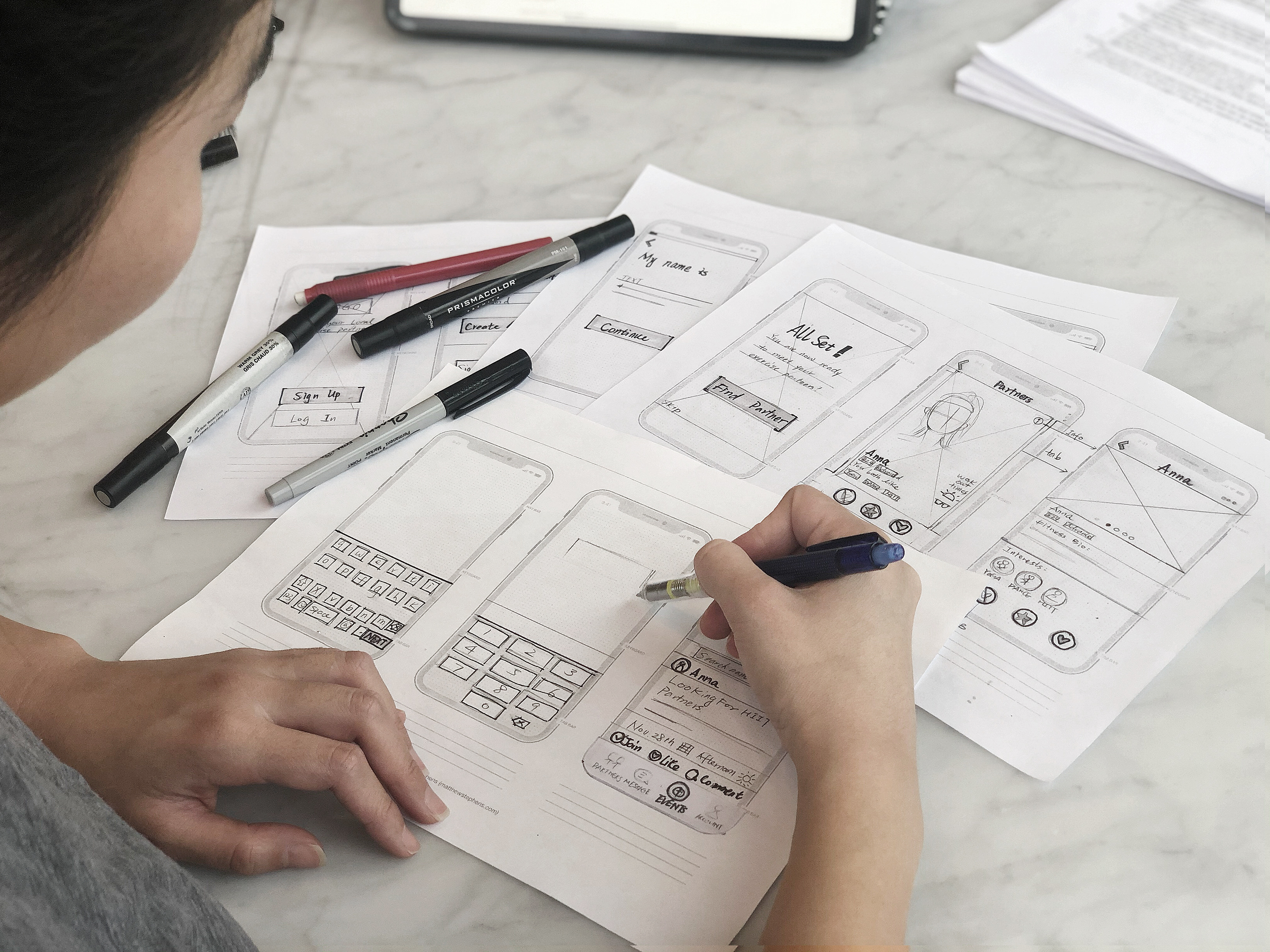 Paper Prototype & Guerrilla Testing
With all the supporting data presented, I started to create iterations of hand-drawn sketches.
I created a clickable paper prototype using Marvel and conducted guerrilla usability testing among 8 participants.
Wireframes
I made iterations based on some valuable feedback from the guerrilla usability testing.
Registration:
Onboarding features are provided on the home screen for new users

Fitness bio was removed from registration but can be input later
Find FitBuddies:
Adopted the Tinder-style matching process to reduce cognitive load
Create Workout Event:
Based on the user's pain points, privacy settings help protect their personal information by allowing users to control who can see and join their event

In order to create an engaging user experience, the app allows users to browse all nearby events created by the FitBuddy community
See the full version document here: FitBuddy - Wireflows
Style Guide
Brand Key Insights
Easy & Fun, Motivating, Robust, and Supportive
Brand Personality
FitBuddy is a dynamic, empowering, and supportive community. FitBuddies care about becoming better versions of themselves and meeting the ones who support them.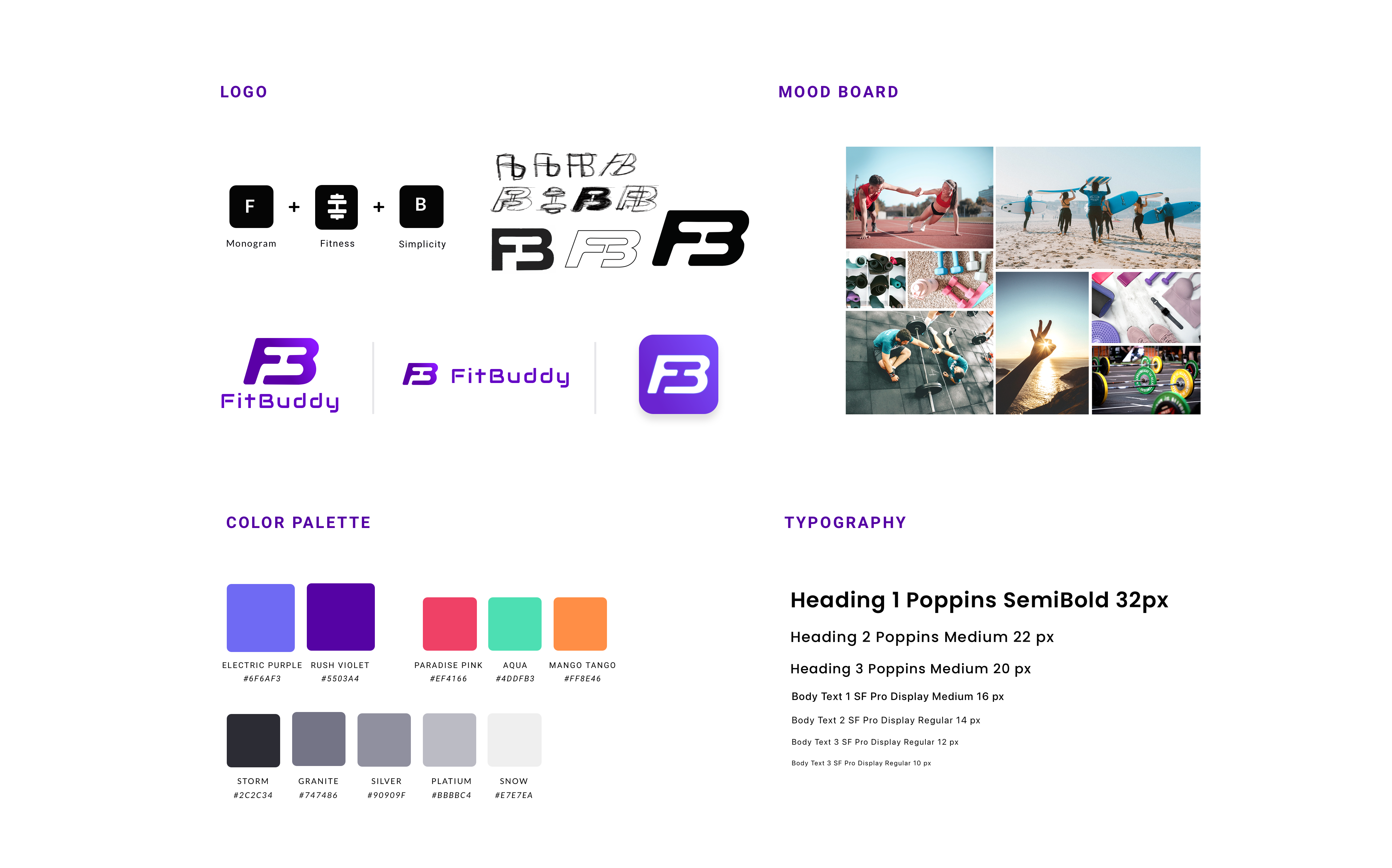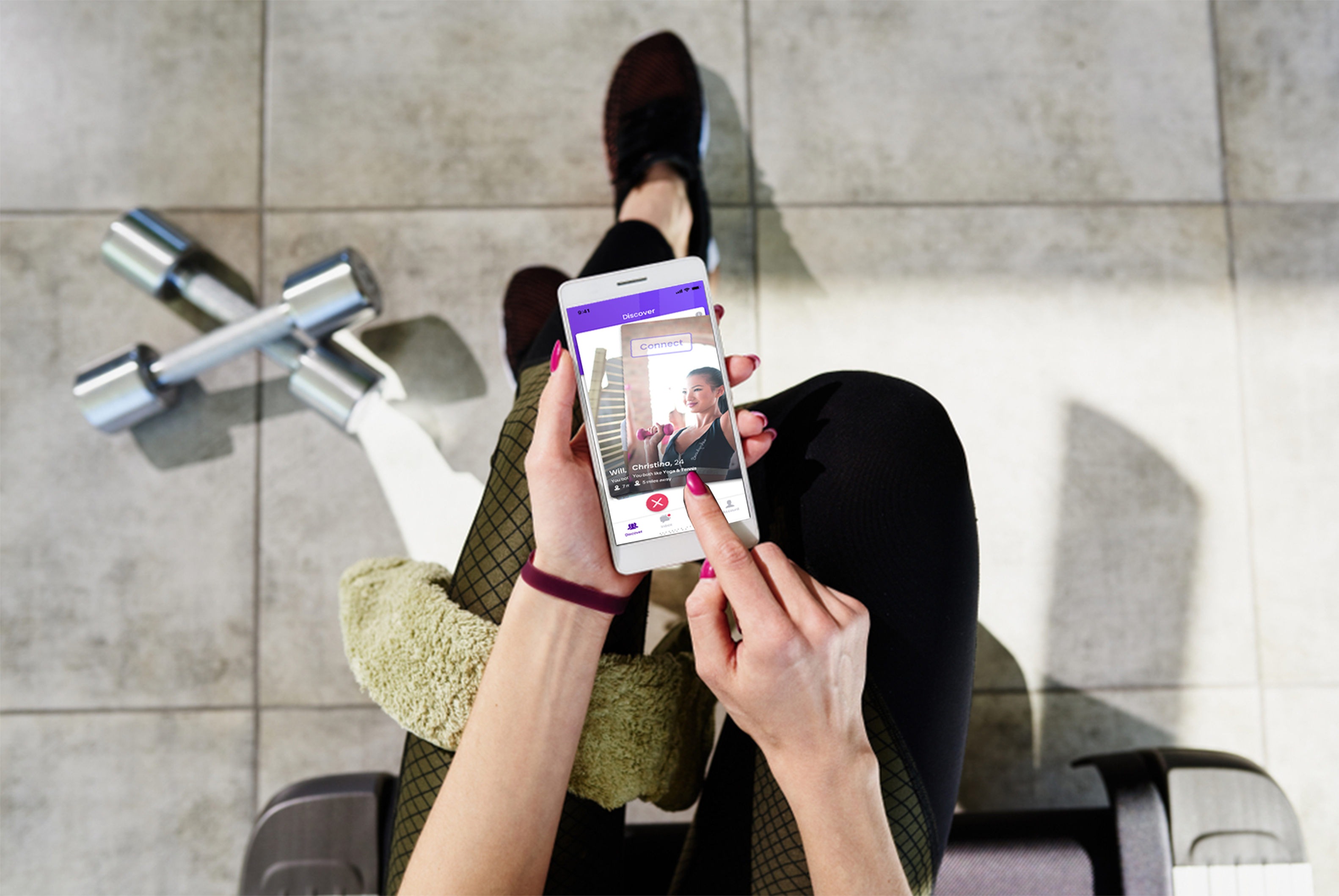 User Testing
2 rounds of remote moderated testing were conducted among 10 participants with a clickable prototype to go through basics tasks.
Major iterations after testings:
Reduced the registration process from 8 steps to 6. Users can fill in their fitness bio and workout times in the account later

Added checkmark for multiple selects for better accessibility

Redesigned the inbox screen to improve information hierarchy

Combined ongoing events to FitBuddy's profile to increase the user participation rate on workout events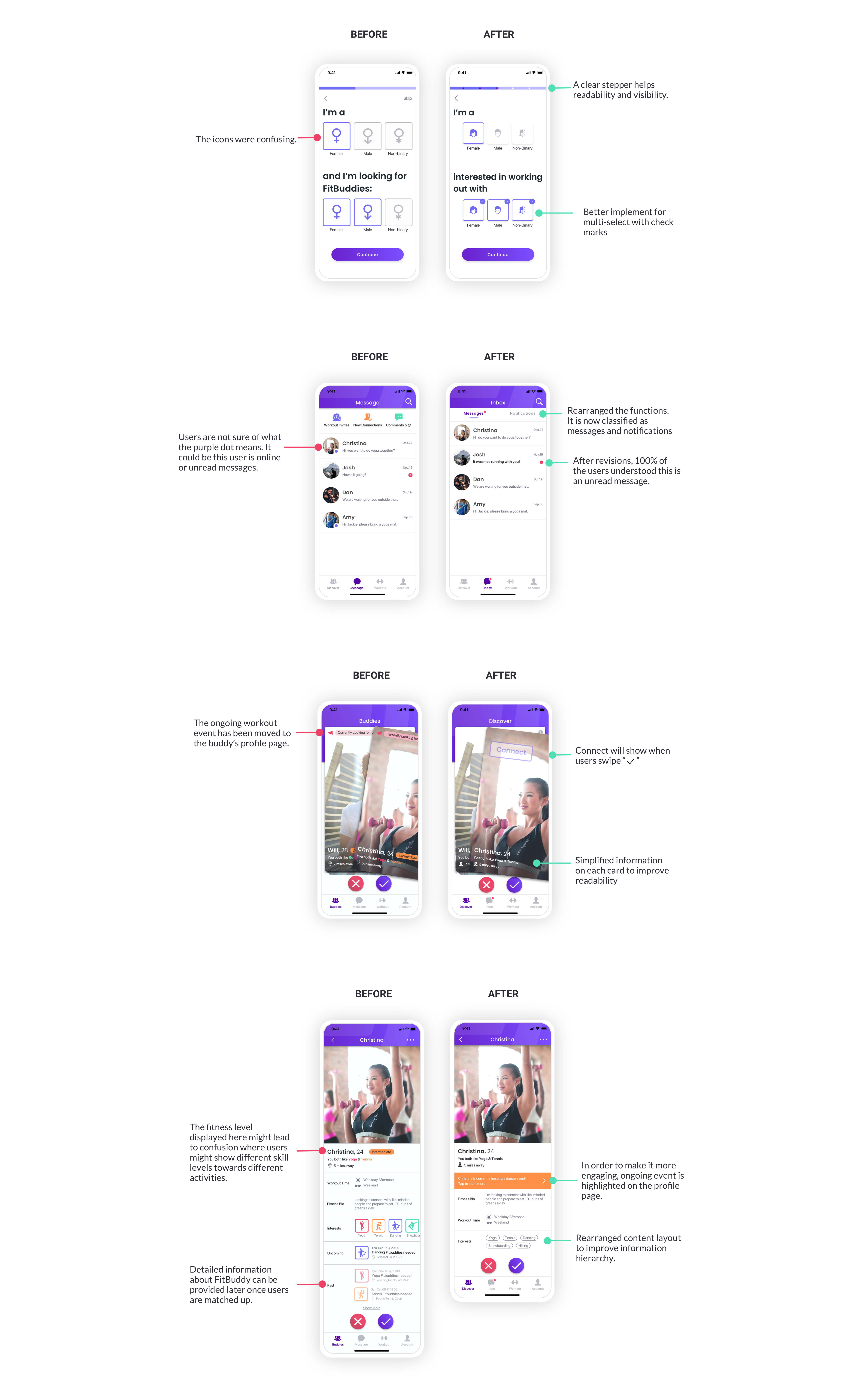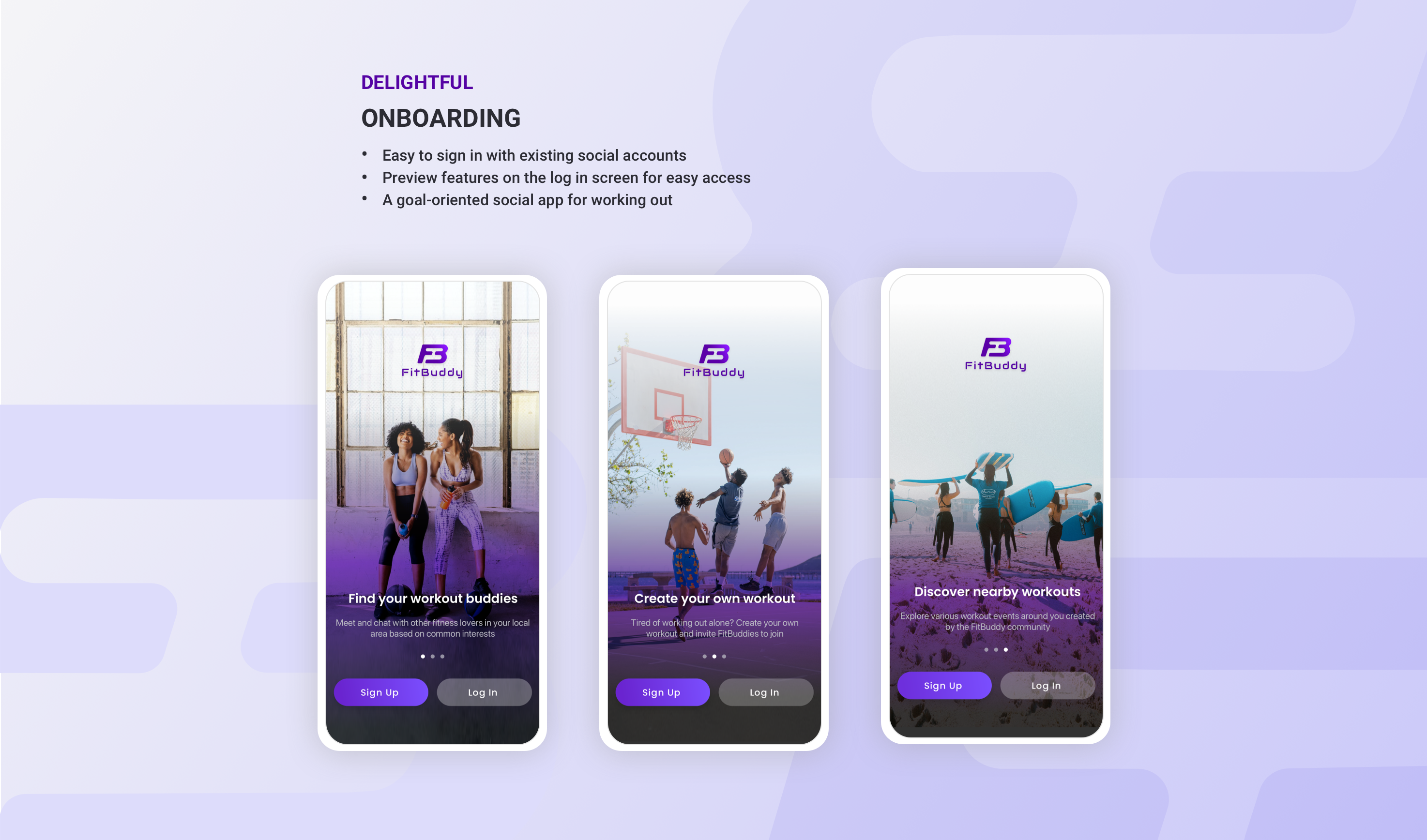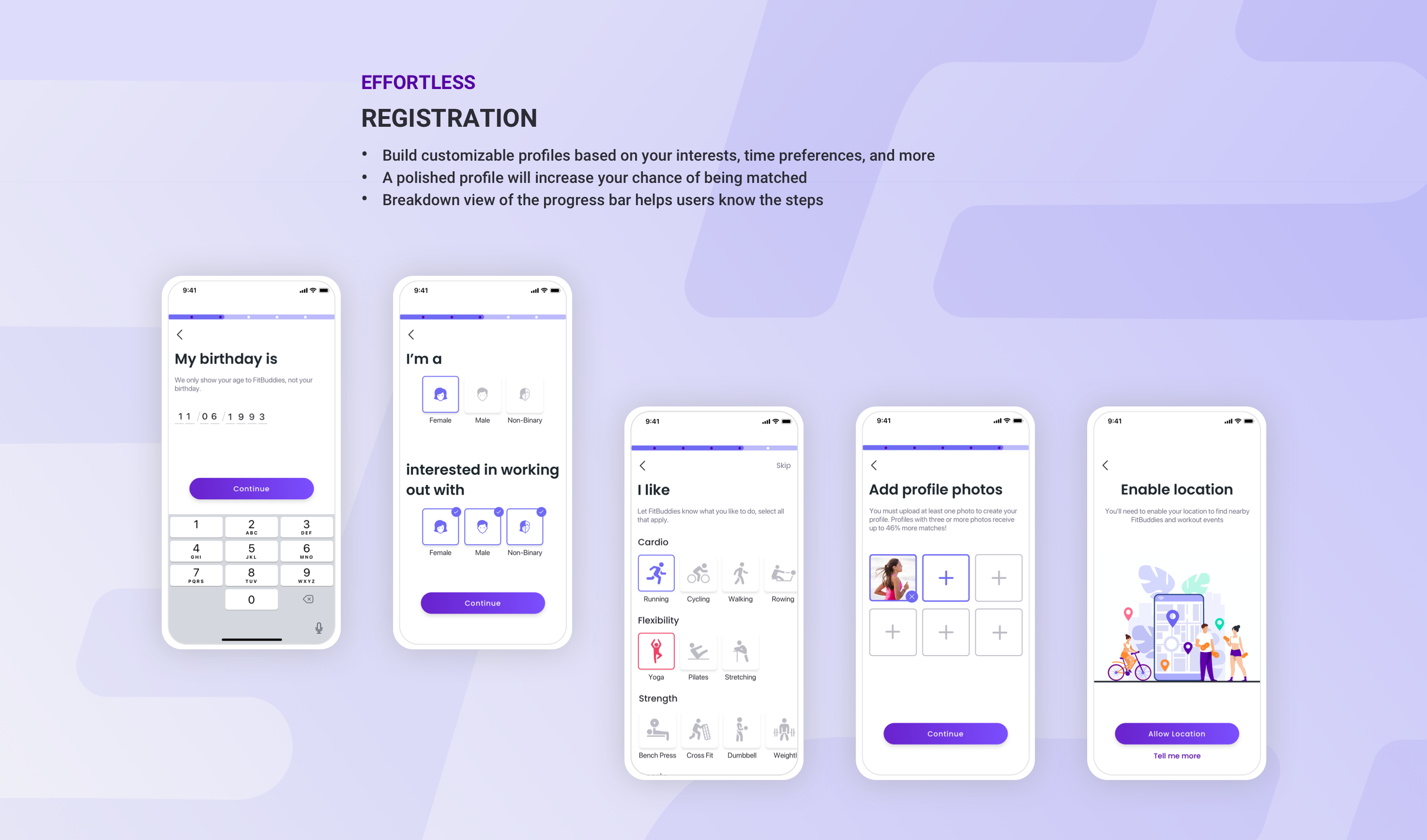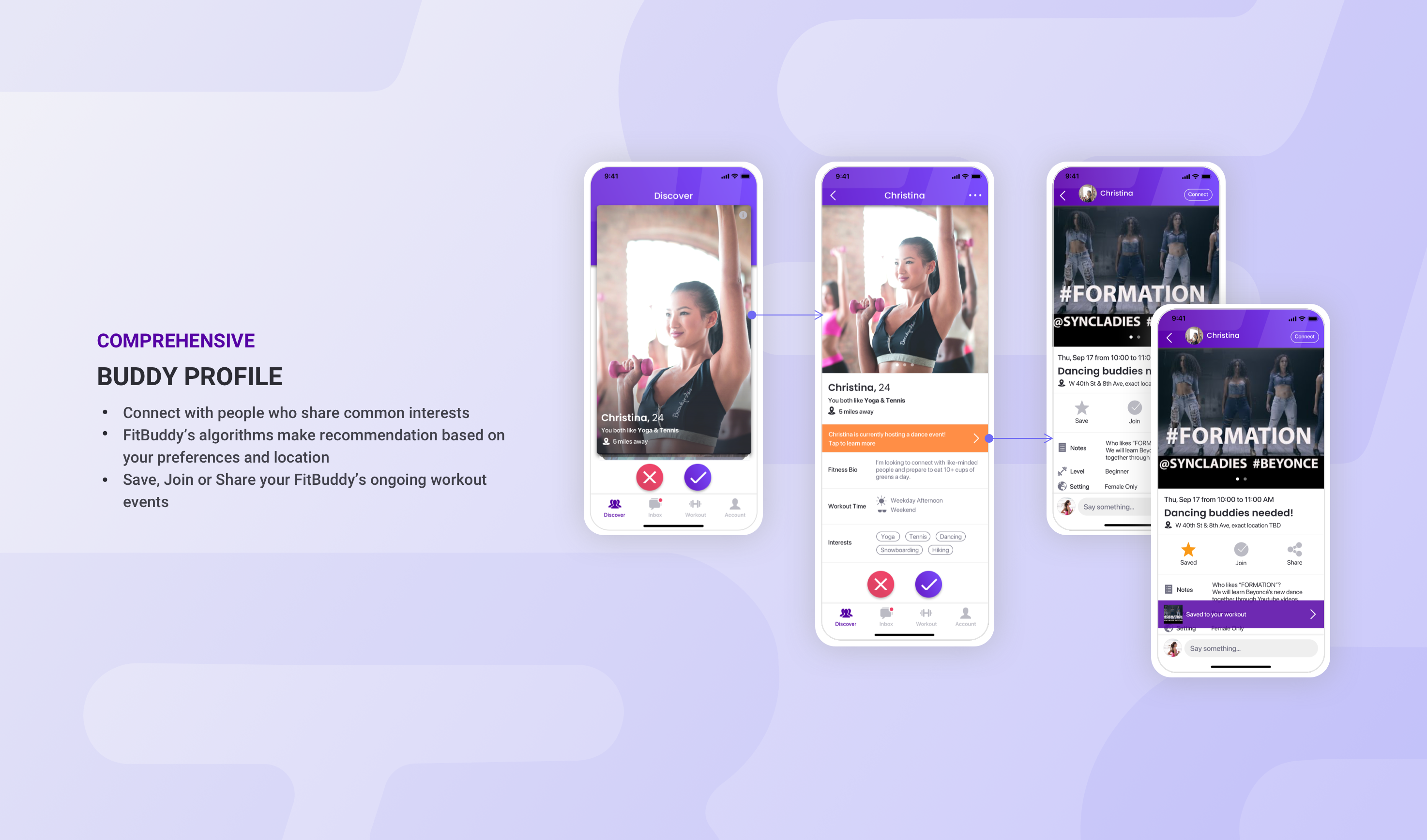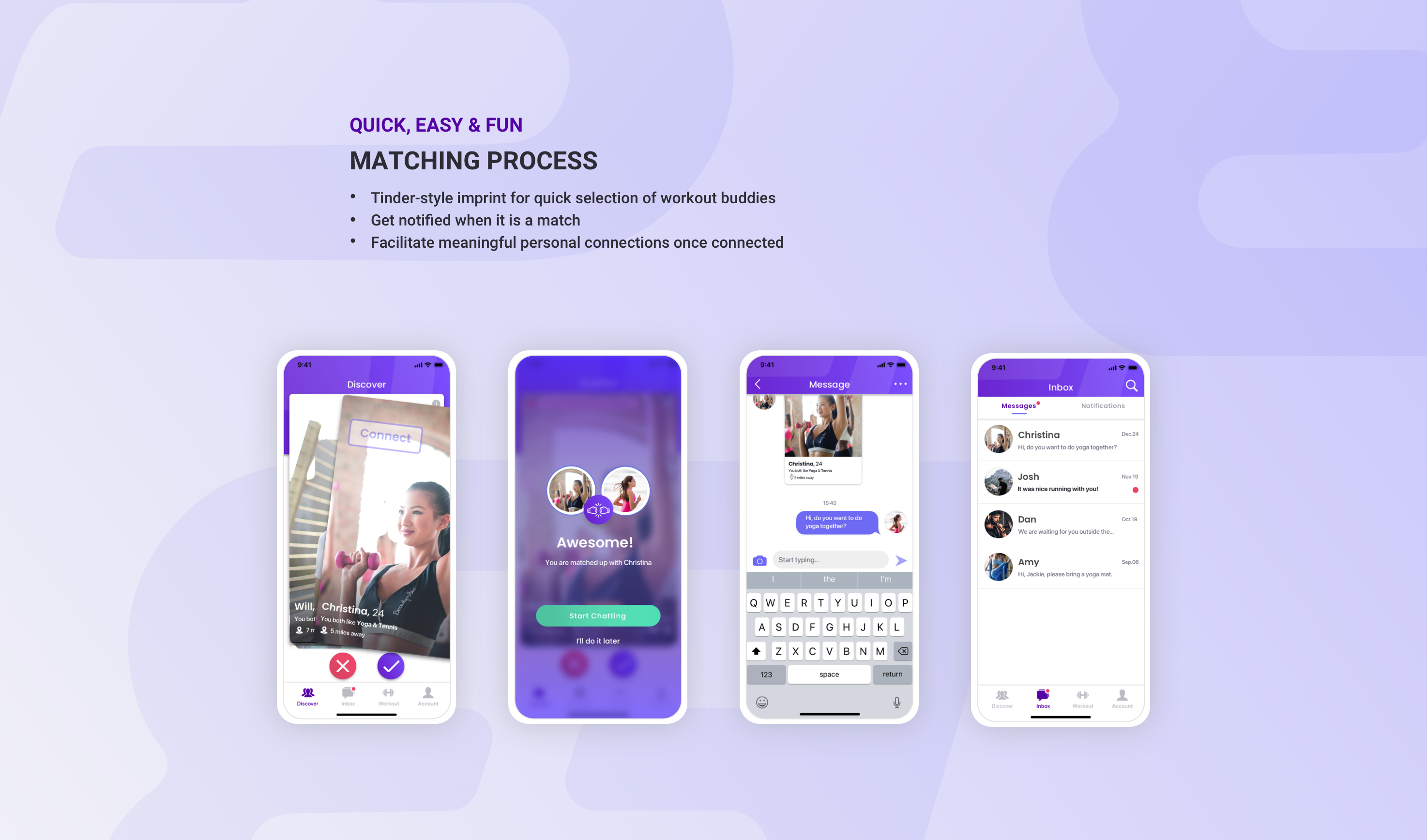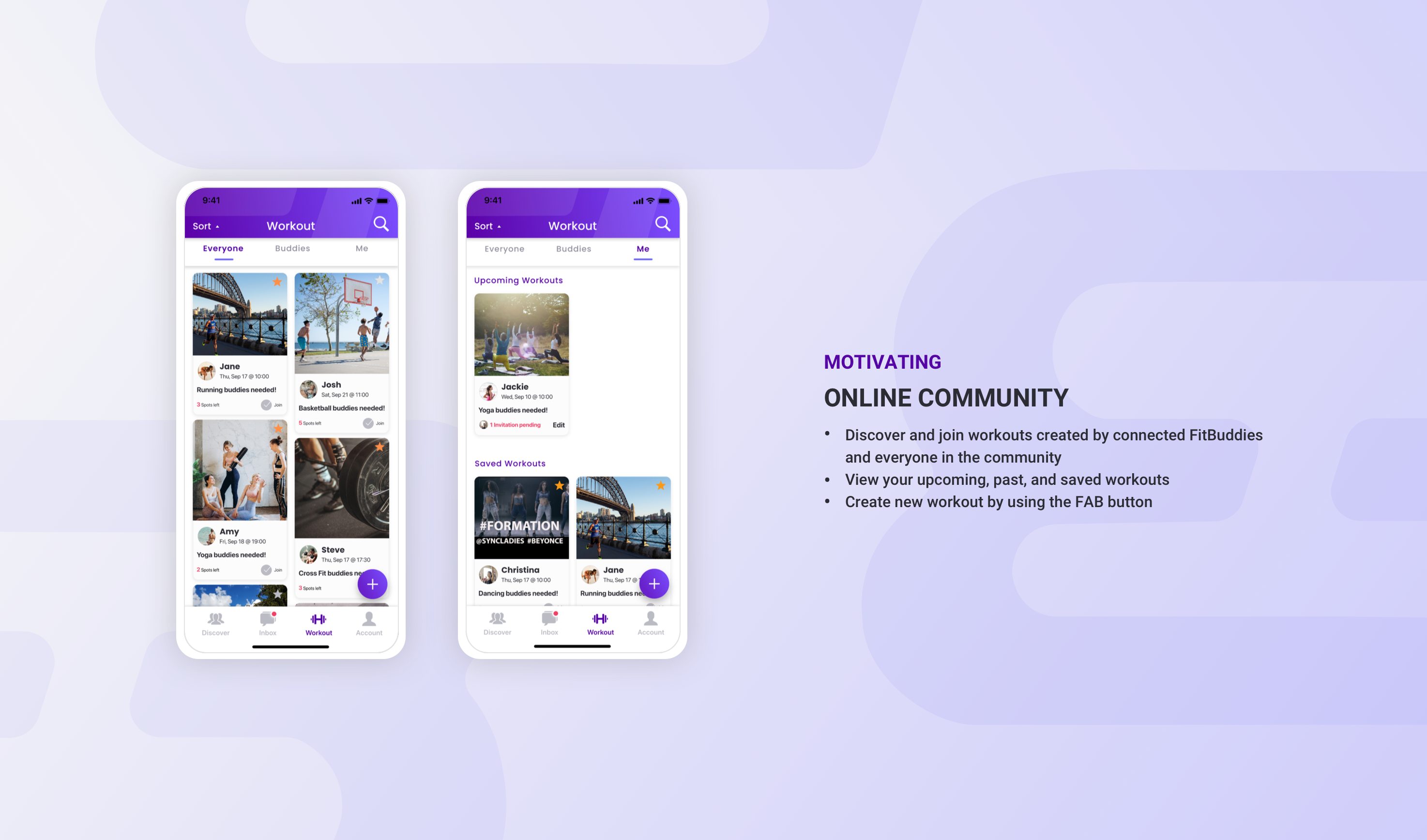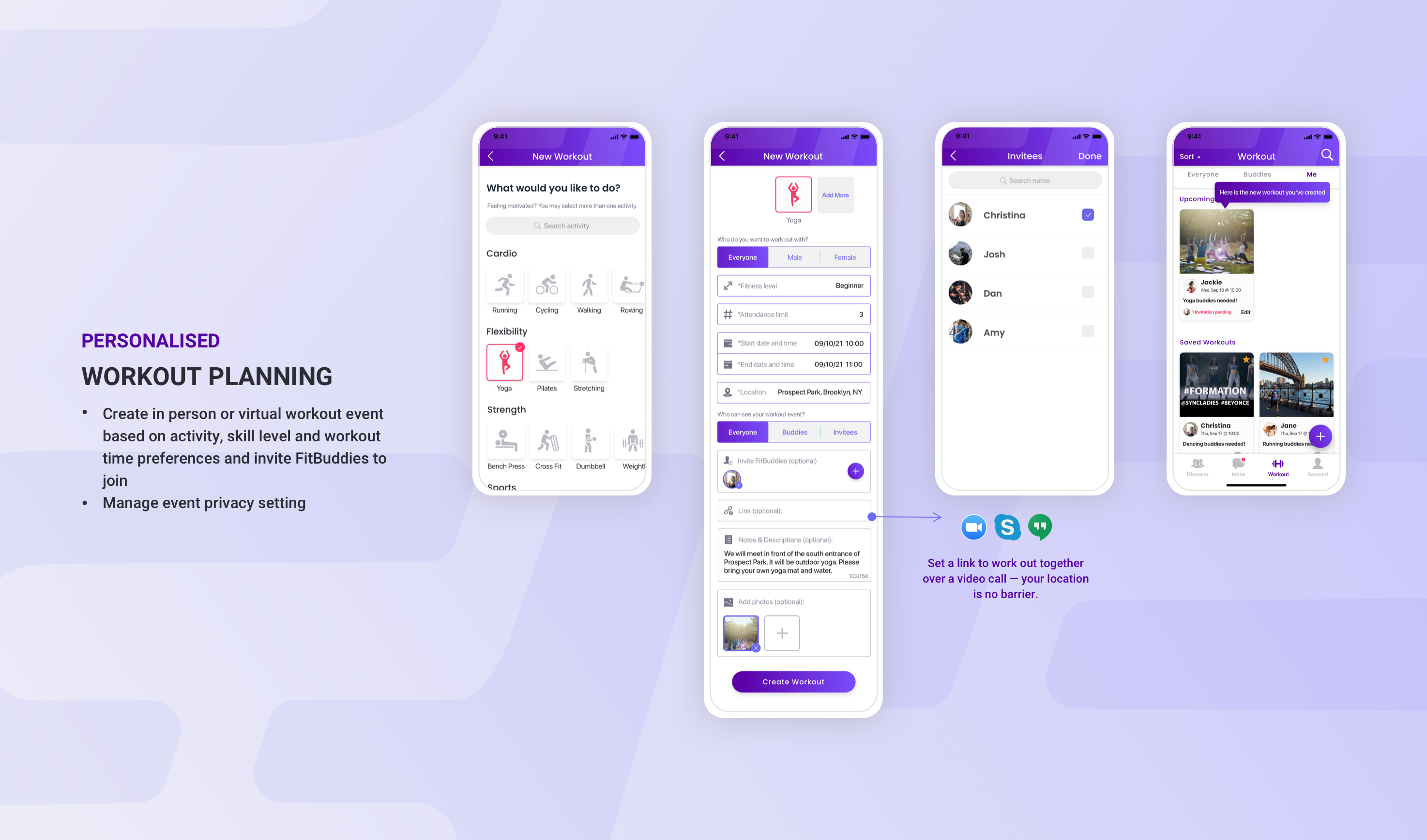 Final Thoughts & Takeaways
In the end, I was able to deliver a comprehensive app experience that provides a solution to the problem that many of us experience.
To achieve this, one of the biggest challenges is to overcome one's exercise resistance. Changes can feel complicated, so it's even more important to make it as easy and friction-less as possible for people to get together and get moving.
Not only did I gain a deeper understanding of how to define and focus on the MVPs but also know when to let go. Although gathering sufficient user information in the registration process would improve the experience of the app, the ultimate solution should aim to design the steps strategically to capture users' attention. Knowing how to prioritize time-sensitive requirements within a fixed timeframe and make sure the most important features get delivered first is crucial.
The second challenge for me is to differentiate the FitBuddy community from a dating app. To keep users engaged after they connected with the FitBuddies, I introduced social opportunities via the workout events function.
Lastly, huge thanks to the people who participated in the interviews and testing. It was wonderful to hear feedback from users that they can benefit from FitBuddy in the future.

What's next
Here are some features that can be considered for FitBuddy in the next step:
Boast your accomplishments and motivate others: share moments and progress once a workout is completed with FitBuddies

Find professional trainers to keep you accountable: receive customized guidance from professional coaches and push your limits

Overcome challenges and get rewards: unlock daily challenges to help you climb the leaderboard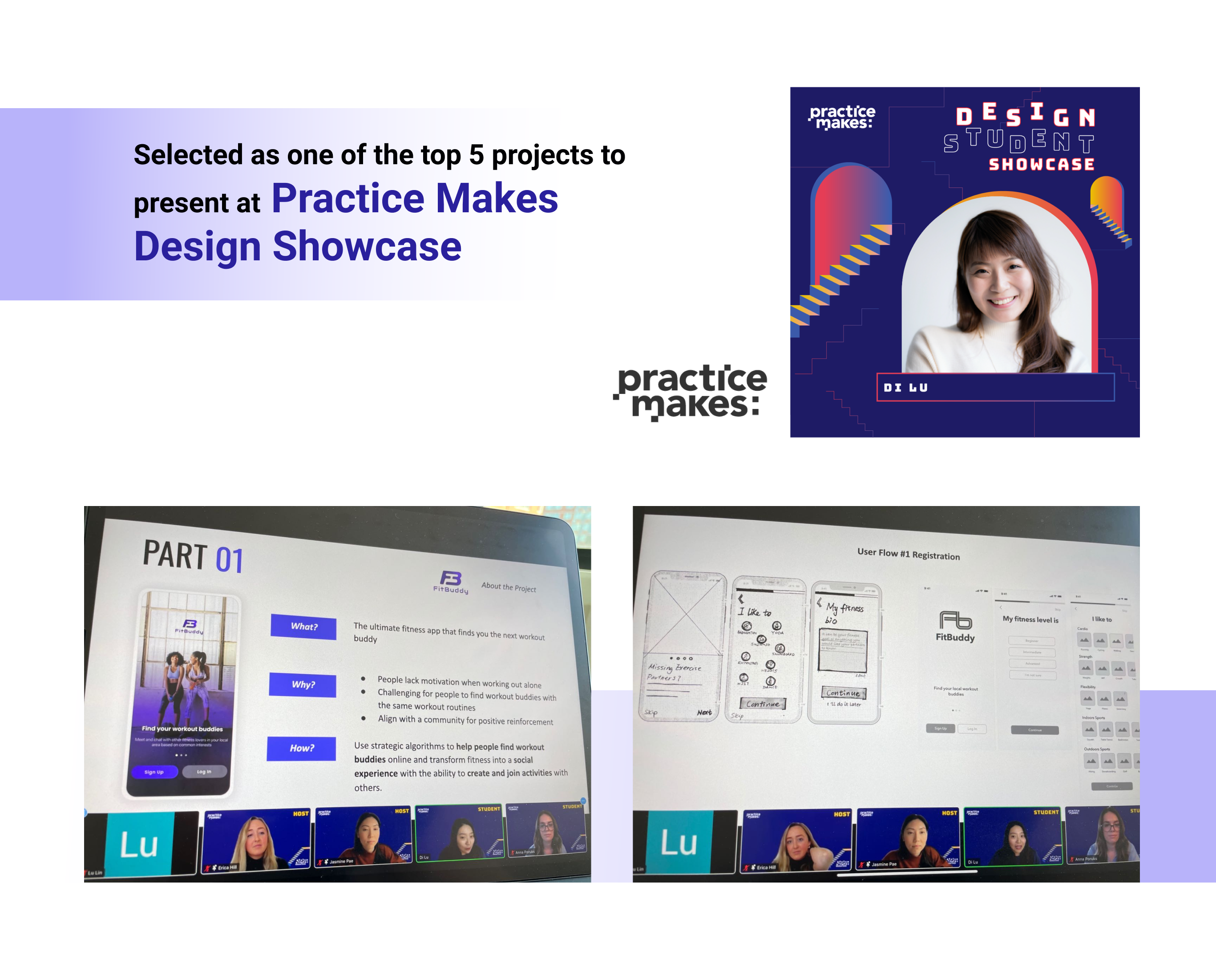 Recognition
When: 4/7/2021
Where: Zoom Presentation hosted by Practice Makes
What: I have been selected as one of the top 5 students to present my FitBuddy UX design project to the design community and a group of professional panelists. This event is hosted by The NYC Practice Makes team, made up of Accenture Digital Products and Fjord New York.
"With FitBuddy, there are no more excuses."